New Nepali Teej Video Song Mera Budha Jharke by Ram Prasad Khanal and Manju Poudel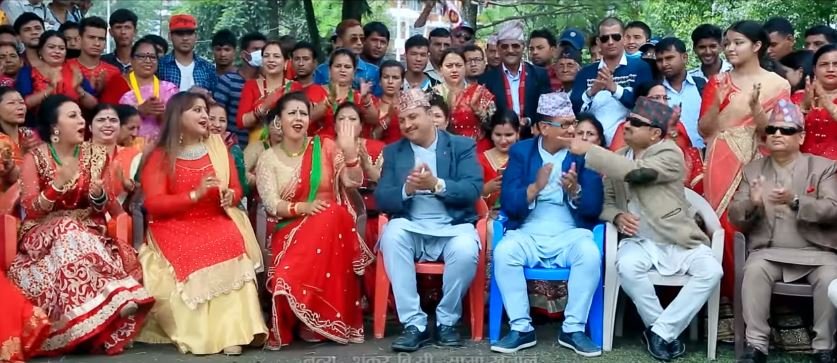 Mera Budha Jharke is a new Nepali teej song by Ram Prasad Khanal and Manju Poudel. In this music video many comedian artists performed together. This is comedy teej lok dohori between husbands and wives. The song is based on Nepali women's great festival 'Haritalika Teej' directed by Shankar BC. This music video was cinematographed by Rajesh Ghimire and Prakash Khadka and was edited by Nabin Gharti Magar.
The lyrics as well as music for the song was composed by Ram Prasad Khanal. The artists Kiran KC, Shivahari Poudel, Manoj Acharya, Deepa shree Niraula, Ram Prasad Khanal, Manju Poudel, Anusha Poudel, Ritu Kandel, Nabin Poudel, Shankar BC and Susma Khanal performed together. In this music video there is a funny and romantic debate between husbands and wives about the tradition of teej. The music video is based on the Nepali festival 'Teej', which is one of the biggest festival of Nepal. The monsoon festivals of Teej are primarily dedicated to Goddess Parvati and her union with Lord Shiva. Once you listen to this song, I am sure you will keep tuning it.
Mera Budha Jharke is released officially online by Ram Prasad Khanal via Youtube. Hope that you will enjoy this romantic and melodious Teej song:
Here is the lyrics for the song Mera Budha Jharke:
Uvo lekha parbatai ma
Uvo lekha parbatai ma
Lalu mai gai ka khuta larke
Lalu mai gai ka khuta larke
He Lalu mai gai ka khuta larke
Maita janchhu vanda kheri
Maita janchhu vanda kheri
Lalau mai mera budha jharke
Lalau mai mera budha jharke
He Lalau mai mera budha jharke
He Lalau mai mera budha jharke
Sadhai maita janai parne
Sadhai maita janai parne
Lalu mai k ho kanchhi chala
Lalu mai k ho kanchhi chala
He Lalu mai k ho kanchhi chala
Socheki chhau tmle kaile
Socheki chhau tmle kaile
Lalu mai budha le k khala
Lalu mai budha le k khala
He Lalu mai budha le k khala
He Lalu mai budha le k khala
……….. ……….. ………..
Ghar dhanda mela pata
Ghar dhanda mela pata
Lalu mai sadhai maile garne
Lalu mai sadhai maile garne
He Lalu mai sadhai maile garne
Sinko pani vachhne hainau
Sinko pani vachhne hainau
Lalu mai merai var ma parne
Lalu mai merai var ma parne
A Lalu mai merai var ma parne
Aa Lalu mai merai var ma parne
Na ta maile janeko chhu
Na ta maile janeko chhu
Lalu mai dal vat pakauna
Lalu mai dal vat pakauna
Aa Lalu mai dal vat pakauna
Janya vaye kina partheo
Janya vaye kina partheo
Lalu mai tmlae fakauna
Lalu mai tmlae fakauna
Aa Lalu mai tmlae fakauna
Aa Lalu mai tmlae fakauna
……….. ………. …………..
Sadhai vari tmrai sewa
Sadhai vari tmrai sewa
Lalu mai mai garna sakdina
Lalu mai mai garna sakdina
Aa Lalu mai mai garna sakdina
Maita lage hairan parchhau
Maita lage hairan parchhau
Lalu mai mai lagna sakdina
Lalu mai mai lagna sakdina
Aa Lalu mai mai lagna sakdina
Aa Lalu mai mai lagna sakdina
Ki ta laijau malae pani
Ki ta laijau malae pani
Lalu mai janchhu tmra maita
Lalu mai janchhu tmra maita
Aa Lalu mai janchhu tmra maita
Ghar ma ekklae basda bora
Ghar ma ekklae basda bora
Lalu mai malae sathi khoe ta
Lalu mai malae sathi khoe ta
Aa Lalu mai malae sathi khoe ta
Aa Lalu mai malae sathi khoe ta
………… ……….. …………