New Teej Song Barilai by Shristi Pun Magar and Ramji Khand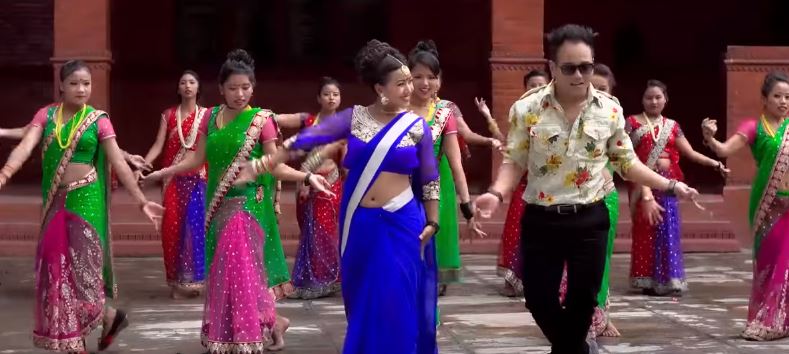 Barilai is a new Nepali teej song by Shristi Pun Magar and Ramji Khand. The music video features Ramji Khand and Aarushi Magar. Barilai is based on Nepali women's great festival 'Haritalika Teej' directed by Babbu Thapa. This music video was edited by Prabin Bhatta and was cinematographed by Durga Paudel.
The lyrics for the song was written by Ramesh BG and Khem Century composed the music for this song. The music video features gorgeous well known model Aarushi Magar. She is looking very attractive in different colorful Saries. She performed many music videos in which she has done her best with many other artists. Here, in this music video Barilai, she has performed with handsome and popular model, director, composer and writer Ramji Khand. Barilai music video is based on the Nepali festival 'Teej', which is one of the biggest festival of Nepal. The monsoon festivals of Teej are primarily dedicated to Goddess Parvati and her union with Lord Shiva. Barilai music video was presented by Aashish Music Pvt. Ltd. When you once listen this song, I am sure you will keep tuning it.
Barilai is released officially online by Music Nepal via Youtube. Hope that you will enjoy this romantic and melodious Teej song:
Here is the lyrics for the song Barilai:
Sapa ra sapa ghas maile kate
Sapa ra sapa ghas maile kate
Haaa Barilae tare viraima
Barilae tare viraima
Barilae tare viraima
Barilae tare viraima
Sirfula laedinchhu
Vanera dhati
Sirfula laedinchhu
Vanera dhati
Haa Mayale pare piraima
Mayale pare piraima
Mayale pare piraima
Mayale pare piraima
Mayale pare piraima
Mayale pare piraima
Kori ra bati siuri deu fula
Kori ra bati siuri deu fula
Haaa barilai kalo kesaima
Barilai kalo kesaima
Barilai kalo kesaima
Barilai kalo kesaima
Ka chha ra janu
Man bujau sanu
Ka chha ra janu
Man bujau sanu
Haa Barilai j chha tesaima
Barilai j chha tesaima
Barilai j chha tesaima
Barilai j chha tesaima
Barilai j chha tesaima
Barilai j chha tesaima
……….. ……….. ……….
Jalkera aunu dhalera aunu
Jalkera aunu dhalera aunu
Haaa Barilai vanthe daju le
Barilai vanthe daju le
Barilai vanthe daju le
Barilai vanthe daju le
Sirai ko sova sirfulai chhaina
Sirai ko sova sirfulai chhaina
Haaa Barilai mare lajile
Barilai mare lajile
Barilai mare lajile
Barilai mare lajile
Barilai mare lajile
Barilai mare lajile
Chhapa ra chhapa jal kalle haneo
Haa Barilai seti dovan ma
Barilai seti dovan ma
Barilai seti dovan ma
Barilai seti dovan ma
Sindur ko dhani jyan chhadai chha ni
Sindur ko dhani jyan chhadai chha ni
Haaa Barilai tmro joban ma
Barilai tmro joban ma
Barilai tmro joban ma
Barilai tmro joban ma
Barilai tmro joban ma
Barilai tmro joban ma
………. ……….. …………
Kutuma kutu supari dana
Kutuma kutu supari dana
Haa Barilai kateo maya le
Barilai kateo maya le
Barilai kateo maya le
Barilai kateo maya le
Asaiko man nirasau pari
Asaiko man nirasau pari
Haa Barilai dhateo maya le
Barilai dhateo maya le
Barilai dhateo maya le
Barilai dhateo maya le
Barilai dhateo maya le
Barilai dhateo maya le
………… ……… ………