New Teej Song Chahiyena Poi by Komal Oli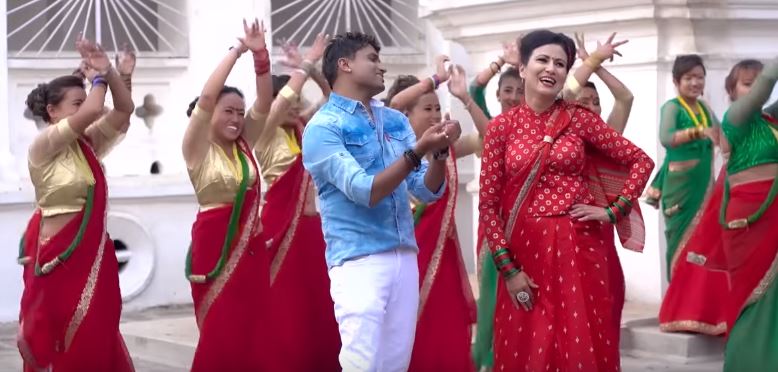 Chahiyena Poi is a Nepali teej song by Komal Oli and Pashupati Sharma. This music video is all about melodic and funny conversation between two singers Komal Oli and Pashupati Sharma. The music video features Pashupati Sharma. Chahiyena Poi is directed by Babbu Thapa. This music video was edited by Prabin Bhatta and cinematographed by Durga Poudel.
The lyrics as well as music for the song was composed  by Pashupati Sharma himself. In this music video, artists Komal Oli and Pashupati Sharma have given their best performance and make this music video awesome.They both are singers too with melodious voice. This music video features one of the multi talented, gorgeous well known model and singer Pashupati Sharma and another well known popular Media Personality and Singer Komal Oli. Besides music she also worked in Radio Nepal and Nepal Telivision as newsreader for 4 years. Chahiyena Poi is the teej song before this she has also sang a teej song ' Poila jana Pam' and 'Lastai Choti Ho'. Pashupati and Komal are giving continuity to the Main song Poila jana Pam every year in Teej like sequence of the movie. The music video is Post production by Ekata Films Nepal Pvt. Ltd. When you once listen this song, I am sure you will really enjoy it.
Chahiyena Poi is released officially online by Komal Oli via Youtube. Within 10 days it crosses the 44K viewers with 3K likes. Hope that you will enjoy this teej song
Here is the lyrics for the song Chahiyena Poi:
Pohor teej ma lastai choti
Vandai Geeta gaye
Sab jana ko maya paye
Rajniti ma laye
A oooe oe Shiva chaena poe
Malae oooe oe Shiva chaena poe
Aba ma bachne des kai lagi ho
Aba ma nachne askai lagi ho
Aba ma bachne des kai lagi ho
Aba ma nachne askai lagi ho
A des kai lagi des kai lagi
Des kai lagi ho
Aba ma bachne des kai lagi ho
Aba ma nachne askai lagi ho
Aja pani vanchhu maile
Vaneko thea hijai
Aru le jhai vrastachar
Nagare hai didai
Aru le jhai nagare hai pap
Gareu vane parchhan patta saf
Aru le jhai nagare hai pap
Gareu vane parchhan patta saf
Gareu vane parchhan patta saf
……… ……….. …………
Kasam galti garne chhaina
Neta vaye pani
Geet gauna ni chhodne chhaina
Jata gaye pani
A oooe oe Shiva chaena poe
Malae oooe oe Shiva chaena poe
Aba ma bachne des kai lagi ho
Aba ma nachne askai lagi ho
Aba ma bachne des kai lagi ho
Aba ma nachne askai lagi ho
A des kai lagi des kai lagi
Des kai lagi ho
Aba ma bachne des kai lagi ho
Aba ma nachne askai lagi ho
Sadhai vari ramra ramra
Gare didi kama
Hami sabai kalakar ki
Bandeu guru ama
Aru le jhai nagare hai pap
Gareu vane parchhan patta saf
Aru le jhai nagare hai pap
Gareu vane parchhan patta saf
Gareu vane parchhan patta saf
……… ……….. …………
Jyan dina ni tayar hunchhu
Vandina ma voli
Jaslae dukha pare pani
Samjha Komal Oli
A oooe oe Shiva chaena poe
Malae oooe oe Shiva chaena poe
Aba ma bachne des kai lagi ho
Aba ma nachne askai lagi ho
Aba ma bachne des kai lagi ho
Aba ma nachne askai lagi ho
A des kai lagi des kai lagi
Des kai lagi ho
Aba ma bachne des kai lagi ho
Aba ma nachne askai lagi ho
Des kai lagi tan deu didi
Des kai lagi man deu
Nam ki Komal Man ki Komal
Kam ki Komal bandeu
Aru le jhai nagare hai pap
Gareu vane parchhan patta saf
Aru le jhai nagare hai pap
Gareu vane parchhan patta saf
Gareu vane parchhan patta saf
……… ……….. …………