New Teej Song Ghumre Julafee by Bishnu Majhi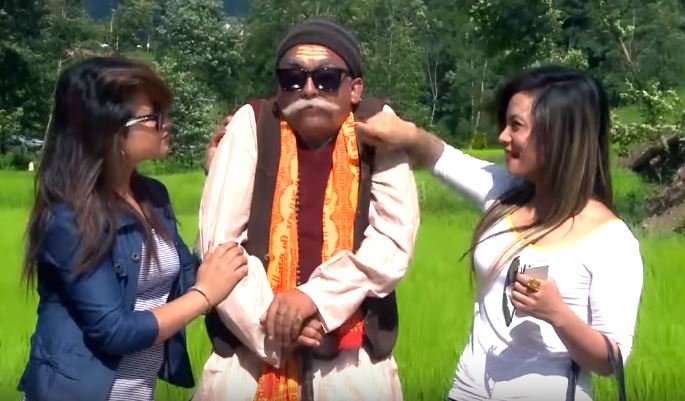 Ghumre Julafee is a comedy teej song by Bishnu Majhi. The music video features Sitaram Kattel. Ghumre Julafee is comedy teej song which is released on the occasion of Teej and express the love of an aged man towards the young girl. This music video is directed by Shiva BK. This music video was edited by Sujan Shahi and was cinematographed by Shambhu Chalise.
The lyrics as well as music for the song was composed by Sundarmani Adhikari. In Ghumre Julafee music video Sitaram Kattel appears in many roles as an old man and performed with another artists Sushma Adhikari. This music video is based on the Nepali women's festival Haritalika Teej which is also called festival which welcomes monsoon season. In this festival Nepali Hindu women do fasting and worship Lord Shiva and Goddess Parvati to get long life of their husbands or to get good husband. This music video was presented by Sapana Music. When you once listen this song, I am sure you will enjoy it.
Ghumre Julafee is released officially online by Music Nepal via Youtube. Hope that you will enjoy this comedy lok dohori song.
Here is the lyrics for the song Ghumre Julafee:
Ha ha hinda bichar gare
Sagurima chiplan taruni le heplan
Gumre julafima…..
Gumre julafima mehendi lagau ha budha
Gumre julafima mehendi lagau hai
Gumre julafima mehendi lagau ha budha
Gumre julafima mehendi lagau hai
Mauri ghumeo ful ma
Sakhiya hai ma ta pare rana vul ma
Sakhiya hai ma ta pare rana vul ma
Oee Sakhiya hai ma ta pare rana vul ma
Sakhiya hai ma ta pare rana vul ma
………… ………. …………
Ha ha achelmasa pani
Dhoti patta berchhau
Patro matrai herchhau
Gumre julafima…..
Gumre julafima mehendi lagau ha budha
Gumre julafima mehendi lagau hai
Gumre julafima mehendi lagau ha budha
Gumre julafima mehendi lagau hai
Mauri ghumeo ful ma
Sakhiya hai ma ta pare rana vul ma
Sakhiya hai ma ta pare rana vul ma
Oee Sakhiya hai ma ta pare rana vul ma
Sakhiya hai ma ta pare rana vul ma
………… ………. …………
Ha ha ma ta risaudina
Sajha ma ghar aye
Ghuma kt paye
Gumre julafima…..
Gumre julafima mehendi lagau ha budha
Gumre julafima mehendi lagau hai
Gumre julafima mehendi lagau ha budha
Gumre julafima mehendi lagau hai
Mauri ghumeo ful ma
Sakhiya hai ma ta pare rana vul ma
Sakhiya hai ma ta pare rana vul ma
Oee Sakhiya hai ma ta pare rana vul ma
Sakhiya hai ma ta pare rana vul ma
………… ………. …………
Ha ha kya ho bahun baje
Nuhaune dhwaune haina
K lae herchhau aina
Gumre julafima…..
Gumre julafima mehendi lagau ha budha
Gumre julafima mehendi lagau hai
Gumre julafima mehendi lagau ha budha
Gumre julafima mehendi lagau hai
Mauri ghumeo ful ma
Sakhiya hai ma ta pare rana vul ma
Sakhiya hai ma ta pare rana vul ma
Oee Sakhiya hai ma ta pare rana vul ma
Sakhiya hai ma ta pare rana vul ma
………… ………. …………