New Teej Song Jhalamala Jhalamala by Bhagirath Chalaune and Sunita Adhikari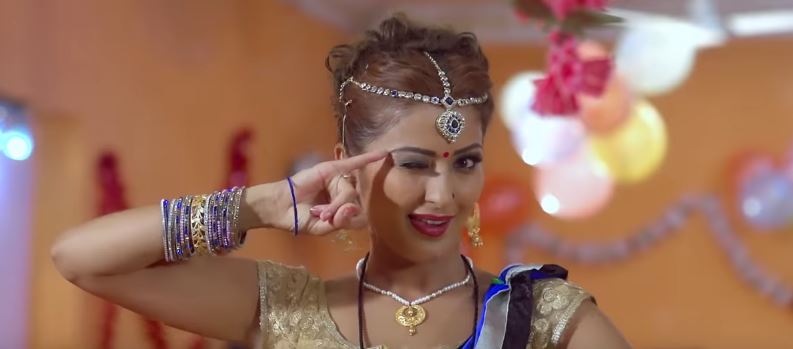 Jhalamala Jhalamala is a new Nepali teej song by Bhagirath Chalaune and Sunita Adhikari. The music video features Ramji and Anjali. The song is based on Nepali women's great festival 'Haritalika Teej' directed by Prakash Bhatta. This music video was cinematographed by Karan Chaisir and was edited by Bishnu Sharma.
The lyrics for the song was written by  Rajkumar Baniya and he has himself composed the music. The music video features talented Nepali duo Ramji and Anjali.  The music video is based on the Nepali festival 'Teej', which is one of the biggest festival of Nepal.The festivals celebrate the bounty of nature, arrival of clouds and rain, greenery and birds with social activity, rituals and customs The monsoon festivals of Teej are primarily dedicated to Goddess Parvati and her union with Lord Shiva. In this music video wee can see the energetic dance of popular model Ramji Khand. Jhalamala Jhalamala music video was presented by Trisana Music Pvt. Ltd. Once you listen to this song, I am sure you will keep tuning it.
Jhalamala Jhalamala is released officially online by Music Nepal via Youtube. Hope that you will enjoy this romantic and melodious Teej song:
Here is the lyrics for the song Jhalamala Jhalamala:
Charkela gham garkela pani
Nachhi rakha nabasa a sani
Charkela gham garkela pani
Nachhi rakha nabasa a sani
A jun hola vanthe
Merai maya raichhin
Jhalamala Jhalamala
A aaa hai mai vaye almala
Jhalamala Jhalamala
A aaa hai mai vaye almala
A aaa hai mai vaye almala
Mukhiya ko agana tharkinchha
Nachhu khutta markiye markinchha
Mukhiya ko agana tharkinchha
Nachhu khutta markiye markinchha
A jun hola vanthe
Merai maya raichhan
Jhalamala Jhalamala
A aaa hai mai vaye almala
Jhalamala Jhalamala
A aaa hai mai vaye almala
A aaa hai mai vaye almala
…………. ……….. ………
Jun sanga ni dajera hera
Merai maya numbari chhau kyare
Jun sanga ni dajera hera
Merai maya numbari chhau kyare
A jun hola vanthe
Merai maya raichhin
Jhalamala Jhalamala
A aaa hai mai vaye almala
Jhalamala Jhalamala
A aaa hai mai vaye almala
A aaa hai mai vaye almala
Maya le geet gaune ho vani
Putali jhai mai nachhu fanfani
Maya le geet gaune ho vani
Putali jhai mai nachhu fanfani
A jun hola vanthe
Merai maya raichhan
Jhalamala Jhalamala
A aaa hai mai vaye almala
Jhalamala Jhalamala
A aaa hai mai vaye almala
A aaa hai mai vaye almala
…………. ……….. ………
Chura pote layeki sari
Chamkeki chheu sabaiko agadi
Chura pote layeki sari
Chamkeki chheu sabaiko agadi
A jun hola vanthe
Merai maya raichhan
Jhalamala Jhalamala
A aaa hai mai vaye almala
Jhalamala Jhalamala
A aaa hai mai vaye almala
A aaa hai mai vaye almala
Tai nachh vanchhan sangi ra sathi
Jyan thakya chha barta chhu tei mathi
A jun hola vanthe
Merai maya raichhan
Jhalamala Jhalamala
A aaa hai mai vaye almala
Jhalamala Jhalamala
A aaa hai mai vaye almala
A aaa hai mai vaye almala
…………. ……….. ………