New Teej Song Muglingma Bhat Khada by Rajendra Sapkota and Purnakala BC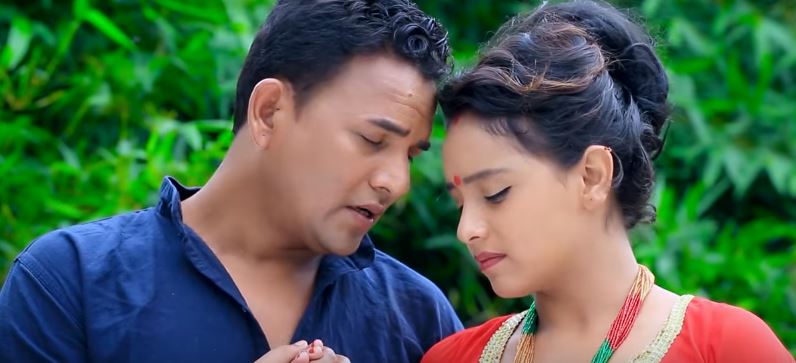 Muglingma Bhat Khada is a new Nepali teej song by Rajendra Sapkota and Purnakala BC. The music video features Shankar and Karishma. The song is based on Nepali women's great festival 'Haritalika Teej' directed by Shankar BC and edited by Shankar BC. Rajesh Ghimire is the Cinematographer of this song.
The lyrics for the song was written by Shiva Akheli and the music was composed by  Rajendra Sapkota. The music video features talented artists Shankar and Karishma. They have given their best performances in several music videos. The music video is based on the Nepali festival 'Teej', which is one of the biggest festival of Nepal. This festivals celebrate the bounty of nature, arrival of clouds and rain, greenery and birds with social activity, rituals and customs. The monsoon festivals of Teej are primarily dedicated to Goddess Parvati and her union with Lord Shiva. Muglingma Bhat Khada music video was presented by Aashish Music Pvt. Ltd. Once you listen to this song, I am sure you will keep tuning it.
Muglingma Bhat Khada is released officially online by Music Nepal via Youtube. Hope that you will enjoy this romantic and melodious Teej song:
Here is the lyrics for the song Muglingma Bhat Khada:
He jani bela bida deu roki
Farke pachhi basaula sukh heri
Sanu tmlae chhodera jada
Samjhe maile muglingma vat khada
Ooe jani bela bida deu roki
Farke pachhi basaula sukh heri
Sanu tmlae chhodera jada
Samjhe maile muglingma vat khada
Sanu tmlae chhodera jada
Samjhe maile muglingma vat kha
A hoee Samjhe maile muglingma vat khada
He tmlae lada mini bus ayera
Bhitra pase runa mana lagera
Ooe tmlae lada mini bus ayera
Bhitra pase runa mana lagera
Sanu tmle chhodera jada
Samjhe haula muglingma vat khada
Sanu tmle chhodera jada
Samjhe haula muglingma vat kha
Hoee Samjhe haula muglingma vat khada
………….. ……… ………
He pirle ho ki vale ni basena
Gaeo vani himal ni hasena
Oe pirle ho ki vale ni basena
Gaeo vani himal ni hasena
Sanu tmlae chhodera jada
Samjhe maile muglingma vat khada
Ooe jani bela bida deu roki
Farke pachhi basaula sukh heri
Sanu tmlae chhodera jada
Samjhe maile muglingma vat khada
Sanu tmlae chhodera jada
Samjhe maile muglingma vat kha
A hoee Samjhe maile muglingma vat khada
He tmi gayesi mali gai duhera
Ghas katdai chhu
Gairi khet pugera
Ohoo tmi gayesi mali gai duhera
Ghas katdai chhu
Gairi khet pugera
Sanu tmle chhodera jada
Samjhe haula muglingma vat khada
Sanu tmle chhodera jada
Samjhe haula muglingma vat kha
Hoee Samjhe haula muglingma vat khada
………….. ……… ………