New Teej Song Pahelpure Phool Ramro by Pashupati Sharma and Purnakala Bc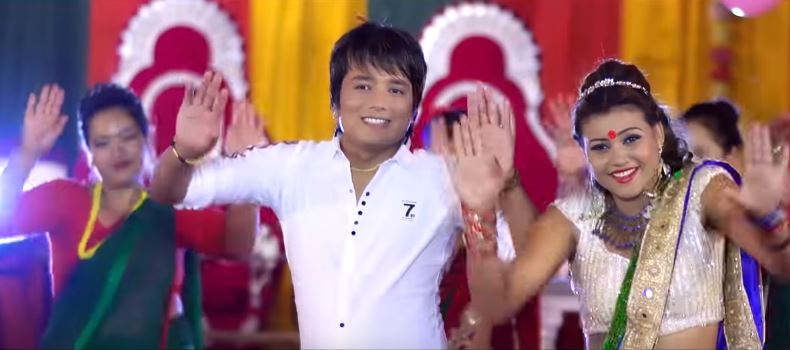 Pahelpure Phool Ramro is a new Nepali teej song by Pashupati Sharma and Purnakala Bc. The music video features DK and Tika Jaisi. The song is released on occasion of Nepali women's great festival 'Haritalika Teej' which is directed by Bikram Chauhan and edited by Milan BK.
The lyrics for the song was written by Pashupati Sharma and himself composed the music for this song.  Pashupati Sharma is one of the best actor, music composer, singer and writer. Every times he wrote the songs he introduces a uniqueness in the song. The music video features talented Nepali artists DK and Tika Jaisi.  The music video is based on the Nepali festival 'Teej', which is one of the biggest festival of Nepal. Hartalika Teej welcomes the monsoon season and celebrated primarily by girls and women, with songs, dancing and prayers. The festivals celebrate the bounty of nature, arrival of clouds and rain, greenery and birds with social activity, rituals and customs. The monsoon festivals of Teej are primarily dedicated to Goddess Parvati and her union with Lord Shiva. Pahelpure Phool Ramro music video was presented by Aashish Music Pvt.Ltd. Once you listen to this song, I am sure you will keep tuning it.
Pahelpure Phool Ramro is released officially online by Music Nepal via Youtube. Hope that you will enjoy this romantic and melodious Teej song:
Here is the lyrics for the song Pahelpure Phool Ramro:
He Hero jastai chitikkai banda
Mero raja kam chhaina koe vanda
Hero jastai chitikkai banda
Mero raja kam chhaina koe vanda
Mero raja ko vanda kamti chha
Hata ma ghadi sunai ko authi chha
Mero raja ko vanda kamti chha
Hata ma ghadi sunai ko authi chha
Mero raja ko vanda kamti chha
Hata ma ghadi sunai ko authi chha
Hata ma ghadi sunai ko authi chha
He Sara Nepal ghumeya chhu mai pani
Asti ramri dekhina kai pani
Sara Nepal ghumeya chhu mai pani
Asti ramri dekhina kai pani
Pahelpure ful ramro toriko
Maya ramri chhau Nepal variko
Pahelpure ful ramro toriko
Maya ramri chhau Nepal variko
Pahelpure ful ramro toriko
Maya ramri chhau Nepal variko
Maya ramri chhau Nepal variko
……. ………. …………
He Mero pyara sunai ko gajur jhai
Ma k ramri humla ra hajur jhai
Mero pyara sunai ko gajur jhai
Ma k ramri humla ra hajur jhai
Mero raja kam chhaina koe vanda
Mero raja ko vanda kamti chha
Hata ma ghadi sunai ko authi chha
Mero raja ko vanda kamti chha
Hata ma ghadi sunai ko authi chha
Mero raja ko vanda kamti chha
Hata ma ghadi sunai ko authi chha
Hata ma ghadi sunai ko authi chha
He Maile vanna parchha ra kasti chhau
Chhhoye pani dag lagla jasti chhau
Maile vanna parchha ra kasti chhau
Chhhoye pani dag lagla jasti chhau
Pahelpure ful ramro toriko
Maya ramri chhau Nepal variko
Pahelpure ful ramro toriko
Maya ramri chhau Nepal variko
Pahelpure ful ramro toriko
Maya ramri chhau Nepal variko
Maya ramri chhau Nepal variko
……. ………. …………