New Teej Song Phone Dherai Garchau by Tika Pun and Roshan Gaire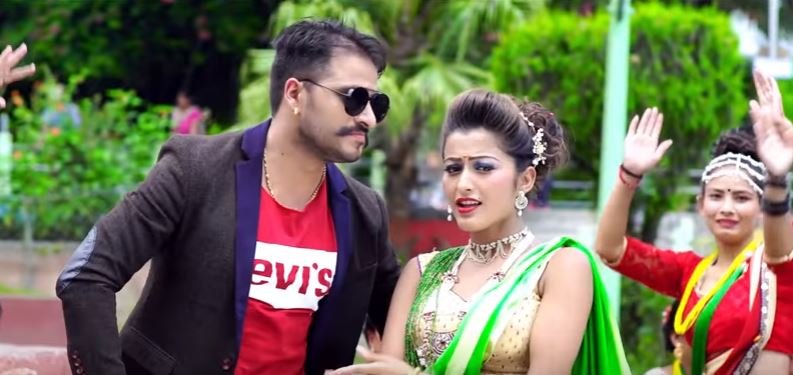 Phone Dherai Garchau is a new Nepali teej song by Tika Pun and Roshan Gaire.The music video features Bimal and Anjali Adhikari. Phone Dherai Garchau is based on Nepali women's great festival 'Haritalika Teej' which is directed by Bikram Chauhan. This music video was edited by Milan BK and was cinematographed by Basu Baral.
The lyrics for the song was written by Roshan Gaire and he himself composed the music. The music video features dazzling and beautiful model Anjali Adhikari. She is looking very attractive in Sari. Here, in this music video Phone Dherai Garchau, she has performed with handsome and popular model, composer and writer Bimal Adhikari. Bimal is one of the popular model who has done lots of music video specially lok dohori songs. Phone Dherai Garchau music video is based on the Nepali festival 'Teej', which is one of the biggest festival of Nepal. The monsoon festivals of Teej are primarily dedicated to Goddess Parvati and her union with Lord Shiva. Phone Dherai Garchau music video was presented by Rashika Digital Pvt.Ltd. When you once listen this song, I am sure you will keep tuning it.
Phone Dherai Garchau is released officially online by Music Nepal via Youtube. Hope that you will enjoy this romantic and melodious Teej song:
Here is the lyrics for the song Phoen Dherai Garchau:
Teeja ka cheli auchhan kum jodi
Teeja ka cheli auchhan kum jodi
Bato muni ko fool jasti vaeychha
Bato muni ko fool jasti vaeychha
A kale tmro maya layera
A kale tmro maya layera
Dhanna aja samma maitima raiyachha
Dhanna aja samma maitima raiyachha
Dhanna aja samma maitima raiya
Oeee Dhanna aja samma maitima raiyachha
Tmle ni parkha ma ni parkhaula
Tmle ni parkha ma ni parkhaula
Due barsa bides basera farkiula
Due barsa bides basera farkiula
Sakiyeo padhae jagira chhaina
Sakiyeo padhae jagira chhaina
Tespachhi tmle pir mandai pardaina
Tespachhi tmle pir mandai pardaina
Tespachhi tmle pir mandai pardai
Oee Tespachhi tmle pir mandai pardaina
……….. ………… ……….
Suna kai bala chaidaina malae
Suna kai bala chaidaina malae
Tmro mayale yeo mana varinchha
Tmro mayale yeo mana varinchha
Yeo hamro maya attikai chhute
Yeo hamro maya attikai chhute
Mare pachhi ni narkama parinchha
Mare pachhi ni narkama parinchha
Mare pachhi ni narkama parin
Oeee Mare pachhi ni narkama parinchha
Yeo mero man ma aru koe chhaina
Yeo mero man ma aru koe chhaina
Jindagi vari tmlae nai rakhne ho
Jindagi vari tmlae nai rakhne ho
Paisa kamauchhu farkera auchhu
Paisa kamauchhu farkera auchhu
Sunaisunale chhapakkai dhakne ho
Sunaisunale chhapakkai dhakne ho
Sunaisunale chhapakkai dhakn
Oee Sunaisunale chhapakkai dhakne ho
………… ……….. ……..
Phone dherai garchhau sakinchha paisa
Phone dherai garchhau sakinchha paisa
Rakha ki malae gharaima layera
Rakha ki malae gharaima layera
Ramauna janchhu a kale ma ta
Ramauna janchhu a kale ma ta
Jingai vari tmro nai vayera
Jingai vari tmro nai vayera
Jingai vari tmro nai vayer
Oee Jingai vari tmro nai vayera
Ekkai chhin boli nasunda tmro
Ekkai chhin boli nasunda tmro
Yeo man jalera pagala jhai banauchha
Yeo man jalera pagala jhai banauchha
Boli sunchhu ra ma khusi hunchhu
Boli sunchhu ra ma khusi hunchhu
Yeo man ko pida attikai harauchha
Yeo man ko pida attikai harauchha
Yeo man ko pida attikai harau
Oeee Yeo man ko pida attikai harauchha
……… …………. ………