New Teej Song Ratai Katauna by Shankar Panta and Devi Gharti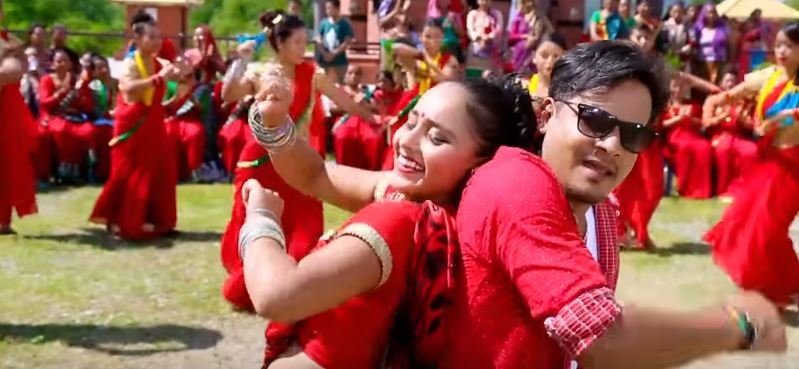 Ratai Katauna is a new Nepali teej song by Shankar Panta and Devi Gharti. The music video features Babbu Thapa and Karishma Dhakal. The song is based on Nepali women's great festival 'Haritalika Teej' and released to wish Haritalika Teej to all Nepali women. This music video is directed by Babbu Thapa and edited by Prabin Bhatta. Durga Poudel is the Cinematographer of this song.
The lyrics for the song was written by Shiva Hamal and the music was composed by Shiva Hamal himself. The music video features talented artists Babu Thapa and Karishma. They have given their best performances in several music videos. Babu Thapa is one of the multi talented person. He is director and good dancer. The music video is based on the Nepali festival 'Teej', which is one of the biggest festival of Nepal. This festivals celebrate the bounty of nature, arrival of clouds and rain, greenery and birds with social activity, rituals and customs. The monsoon festivals of Teej are primarily dedicated to Goddess Parvati and her union with Lord Shiva. Ratai Katauna music video was presented by Aashish Music Pvt. Ltd. Once you listen to this song, I am sure you will keep tuning it.
Ratai Katauna is released officially online by Music Nepal via Youtube. Hope that you will enjoy this romantic and melodious Teej song:
Here is the lyrics for the song Ratai Katauna:
Hoe Ankhai laune gajalu
Sir ma laune sirbandhi
Ankhai laune gajalu
Sir ma laune sirbandhi
Har ma chaubandhi maya
Har ma chaubandhi
Har ma chaubandhi maya
Har ma chaubandhi
Har ma chaubandhi maya
Har ma chaubandhi
Har ma chaubandhi maya
Har ma chaubandhi
Paile dhera gal paye
Balla ahile chal paye
Paile dhera gal paye
Balla ahile chal paye
Kasti chhau vanni maya
Kasti chhau vanni
Kasti chhau vanni maya
Kasti chhau vanni
Kasti chhau vanni maya
Kasti chhau vanni
Kasti chhau vanni maya
Kasti chhau vanni
Oee Karmai rkho chha mero
Lipi pote kamiro
Karmai rkho chha mero
Lipi pote kamiro
Ghar chha tin tale maya
Ghar chha tin tale
Ghar chha tin tale maya
Ghar chha tin tale
Ghar chha tin tale maya
Ghar chha tin tale
Ghar chha tin tale maya
Ghar chha tin tale
Vok laudaina dina ma
Nid laudain rata ma
Vok laudaina dina ma
Nid laudain rata ma
Tmrai chinta le maya
Tmria chinta le
Tmrai chinta le maya
Tmria chinta le
Tmrai chinta le maya
Tmria chinta le
Tmrai chinta le maya
Tmria chinta le
………… ……… ……..
Oee Pakha bari bigali
Chirbir chirbir jureli
Pakha bari bigali
Chirbir chirbir jureli
Ratai kataula maya
Ratai Kataula
Ratai kataula maya
Ratai Kataula
Ratai kataula maya
Ratai Kataula
Ratai kataula maya
Ratai Kataula
Kacho pat ko surati
Berthai laye pirati
Kacho pat ko surati
Berthai laye pirati
Aeuu ghatauna maya
Aeeuu ghatauna
Aeuu ghatauna maya
Aeeuu ghatauna
Aeuu ghatauna maya
Aeeuu ghatauna
Aeuu ghatauna maya
Aeeuu ghatauna
Oee Aagniko kakari
Sache maile teko lae
Aagniko kakari
Sache maile teko lae
Kham ki nakham vo maya
Kham ki nakham vo
Kham ki nakham vo maya
Kham ki nakham vo
Kham ki nakham vo maya
Kham ki nakham vo
Kham ki nakham vo maya
Kham ki nakham vo
Mukha ujyalo cream le
Man adyaro pirimle
Mukha ujyalo cream le
Man adyaro pirimle
Lam ki nalam vo maya
Lam ki nalam vo
Lam ki nalam vo maya
Lam ki nalam vo
Lam ki nalam vo maya
Lam ki nalam vo
Lam ki nalam vo maya
Lam ki nalam vo
………. ………… ……….
Oe Kafal pakeo botaima
Tori fuleo barima
Kafal pakeo botaima
Tori fuleo barima
Pakhai payale maya
Pakhai payale
Pakhai payale maya
Pakhai payale
Pakhai payale maya
Pakhai payale
Pakhai payale maya
Pakhai payale
Kam ma chyappai dhyan chhain
Paile jasto dhyan chhaina
Kam ma chyappai dhyan chhain
Paile jasto dhyan chhaina
Tmrai moyale maya
Tmrai moyale
Tmrai moyale maya
Tmrai moyale
Tmrai moyale maya
Tmrai moyale
Tmrai moyale maya
Tmrai moyale
Oe Bandipure ukali
Khaula pani ghutukka
Bandipure ukali
Khaula pani ghutukka
Dhunge dhara ko maya
Dhunge dhara ko
Dhunge dhara ko maya
Dhunge dhara ko
Dhunge dhara ko maya
Dhunge dhara ko
Dhunge dhara ko maya
Dhunge dhara ko
Niurida ni vuetira
Papi najar mai tira
Niurida ni vuetira
Papi najar mai tira
Sansar sara ko maya
Sansar sara ko
Sansar sara ko maya
Sansar sara ko
Sansar sara ko maya
Sansar sara ko
Sansar sara ko maya
Sansar sara ko
………. ………… ………