New Teej Song Rimi Jhimi Panima by Binaya Khatri, Ghanshyam Chhetri and Smarika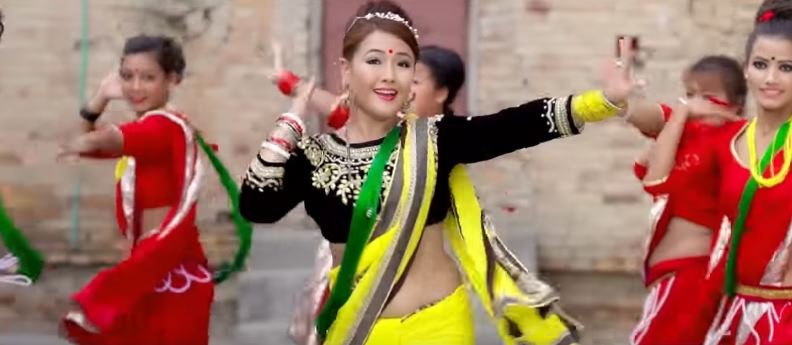 Rimi Jhimi Panima is a new Nepali teej song by Binaya Khatri, Ghanshyam Chhetri and Smarika. The music video features Parbati Rai. The song is released on the occasion of Nepali women's great festival 'Haritalika Teej' and directed by Bikram Chauhan. Rimi Jhimi Panima was cinematographed by Basu Baral and edited by Ramit Oli.
The lyrics as well as music for the song was composed by Netra Aryal. The music video features talented Nepali Model Parbati Rai. She has performed in many Music videos with many artists. The music video is based on the Nepali festival 'Teej', which is one of the biggest festival of Nepal. Hartalika Teej welcomes the monsoon season and celebrated primarily by girls and women, with songs, dancing and prayers. The monsoon festivals of Teej are primarily dedicated to Goddess Parvati and her union with Lord Shiva. Rimi Jhimi Panima music video was presented by Safal Creation Pvt. Ltd. Once you listen to this song, I am sure you will keep tuning it.
Rimi Jhimi Panima is released officially online by Music Nepal via Youtube. Hope that you will enjoy this romantic and melodious Teej song:
Here is the lyrics for the song Rimi Jhimi Panima:
Maga maga babari ful basayeo
Maga maga babari ful basayeo
Rimi jhimi pani ma saram barilai
Rimi jhimi pani ma saram barilai
Rimi jhimi pani ma saram barilai
Rimi jhimi pani ma saram barilai
Maiti samjhi cheli ko man rasayeo
Maiti samjhi cheli ko man rasayeo
Ajhai maya gadha param barilai
Ajhai maya gadha param barilai
Ajhai maya gadha param barilai
Ajhai maya gadha param barilai
Ajhai maya gadha param barilai
Ajhai maya gadha param barilai
Kati ramro ful fuleo beliko
Kati ramro ful fuleo beliko
Rimi jhimi pani ma saram barilai
Rimi jhimi pani ma saram barilai
Rimi jhimi pani ma saram barilai
Rimi jhimi pani ma saram barilai
Ayeo teeja vet garauna cheli ko
Ayeo teeja vet garauna cheli ko
Ajhai maya gadha param barilai
Ajhai maya gadha param barilai
Ajhai maya gadha param barilai
Ajhai maya gadha param barilai
Ajhai maya gadha param barilai
Ajhai maya gadha param barilai
……….. ………. …………
Badalu ghankieyo madalu
Badalu ghankieyo madalu
……. ………. ………..
Sunakhari fuleo gaira barima
Sunakhari fuleo gaira barima
Rimi jhimi pani ma saram barilai
Rimi jhimi pani ma saram barilai
Rimi jhimi pani ma saram barilai
Rimi jhimi pani ma saram barilai
Tmi ramri rato chura sari ma
Tmi ramri rato chura sari ma
Ajhai maya gadha param barilai
Ajhai maya gadha param barilai
Ajhai maya gadha param barilai
Ajhai maya gadha param barilai
Ajhai maya gadha param barilai
Ajhai maya gadha param barilai
Khali vayeo dohori ko khariya
Rimi jhimi pani ma saram barilai
Rimi jhimi pani ma saram barilai
Rimi jhimi pani ma saram barilai
Rimi jhimi pani ma saram barilai
Aspali ni kindinu hai fariya
Aspali ni kindinu hai fariya
Ajhai maya gadha param barilai
Ajhai maya gadha param barilai
Ajhai maya gadha param barilai
Ajhai maya gadha param barilai
Ajhai maya gadha param barilai
Ajhai maya gadha param barilai
……….. ………. …………