Pagal Premi by Devi Gharti and Prakash Bohara Birahi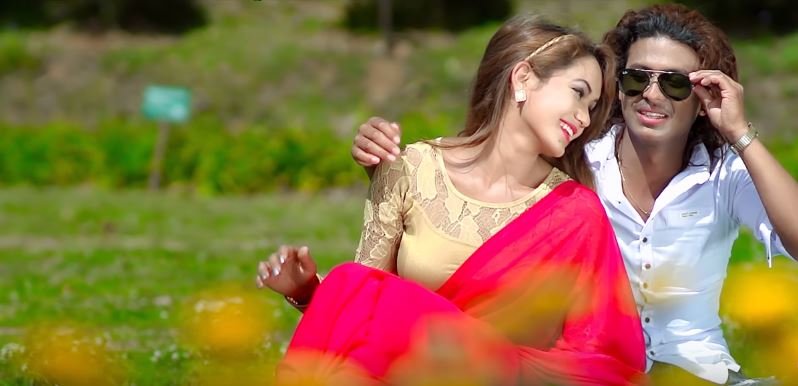 Pagal Premi is a new sentimental lok dohori song by Devi Gharti and Prakash Bohara Birahi. The music video features Sarika KC and Kingstar suman. Pagal Premi is a lok dohori song that represents the love story of two abortive lovers. This music video is directed by Khamesh Shrestha. Pagal Premi music video was cinematographed by Sagar Gautam and was edited by Shakti Prajwal Ghimire.
The lyrics for the song was written by Kingstar Pradeep and Prem Bahadur AP and music was composed by Kingstar Pradeep. Sarika Kc is beautiful and rising model and performed hundreds of music videos. The vocal for this song was given by two singers Devi Gharti and Prakash Bohara Birahi and make this song melodious. Pagal Premi is a emotional song which explains agony of two unsuccessful lovers. There  is a quotation that "Never abandon yourself to please another" so always be yourself. Pagal Premi was presented by Shital Music. When you once listen this song, I am sure you will keep tuning it.
Pagal Premi is released officially online by Music Nepal via Youtube. Hope that you will enjoy this melodious sentimental lok dohori.
Here is the lyrics for the song Pagal Premi:
Heeee ujadida
Sunaulo sansari
Vakkanichha avagi
Man sarai
Vagema nai astai lekheko
Soche jasto hudaina jibana
Na tahh hunchha hamile dekheko
Sunaulo sansari
Vakkanichha avagi
Man sarai
Vagema nai astai lekheko
Soche jasto hudaina jibana
Na tahh hunchha hamile dekheko
Soche jasto hudaina jibana
Na tahh hunchha hamile dekheko
Hunchha raichha dekheko
Heeee tadha tadha
Banaeu duri
Tmro pani hola kei majaburi
Pagal premi hudai
Basyachhu
Tmro jhalko pal pal ma
Ayera samjhana ma rudai basyachhu
Banaeu duri
Tmro pani hola kei majaburi
Pagal premi hudai
Basyachhu
Tmro jhalko pal pal ma
Ayera samjhana ma rudai basyachhu
Tmro jhalko pal pal ma
Ayera samjhana ma rudai basyachhu
Sachhai sanu rudai basyachhu
…. ….. ….. …..
Heeee pardai chhu ma
Arkai ko sarana
Sas raheni pari jhai manana
Vagema nai astai lekheko
Soche jasto hudaina jibana
Na tahh hunchha hamile dekheko
Arkai ko sarana
Sas raheni pari jhai marana
Vagema nai astai lekheko
Soche jasto hudaina jibana
Na tahh hunchha hamile dekheko
Hunna raichha hamile dekheko
….. ….. ……