Papi Maya by Purushottam Gaire and Purnakala BC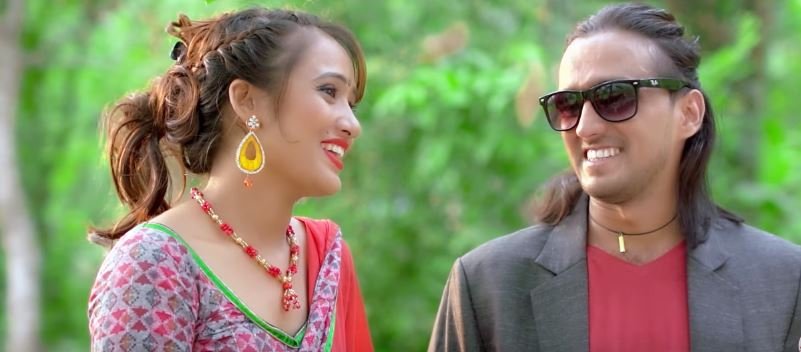 Papi Maya is a new sentimental lok dohori song by Purushottam Gaire and Purnakala BC. The music video features Shiva Aryal, Pabitra and Jalan. Papi Maya is a lok dohori song by Puskal Sharma and Anuja Pudasaini which is directed by Bishnu Bhattarai. Papi Maya was cinematographed by Ramchandra Bhattarai and edited by Bishnu Bhattarai.
The lyrics for the song was written by Narayan Bhattarai and music for the song was composed by Purushottam Gaire. Artists Shiva Aryal, Pabitra Thapa, Jalan Bhandari and Kulchandra Puri all have performed together to make this music video wonderful. In this music video singer Purushottam Gaire and Purnakala BC have given their melodic voice. Purnakala BC is the well known singer with great voice and sings many lok dohori songs. Papi Maya was presented by Suva Tara Music Pvt. Ltd. When you once listen this song, I am sure you will keep tuning it.
Papi Maya is released officially online by Music Nepal via Youtube. Hope that you will enjoy this melodious sentimental lok dohori.
Here is the lyrics for the song Papi Maya:
Aptyero ma hat samae hidne
Sajilo ma pugesi nachinne
Rowunu roweo papi maya
Balla aja chine
Najodnu nai theo nata
Jodera aja tadha vaeu
Tmi uta samjhi rune
Ma ata tadpine
Hat samae hidne
Sajilo ma pugesi nachinne
Rowunu roweo papi maya
Balla aja chine
Najodnu nai theo nata
Jodera aja tadha vaeu
Tmi uta samjhi rune
Ma ata tadpine
Najodnu nai theo nata
Jodera aja tadha vaeu
Tmi uta samjhi rune
Ma ata tadpine
Tmrai yad le satauda ati
Majheri mai bitaye rat kati
Rowunu roweo papi maya
Balla aja chine
Najodnu nai theo nata
Jodera aja tadha vaeu
Tmi uta samjhi rune
Ma ata tadpine
Majheri mai bitaye rat kati
Rowunu roweo papi maya
Balla aja chine
Najodnu nai theo nata
Jodera aja tadha vaeu
Tmi uta samjhi rune
Ma ata tadpine
Najodnu nai theo nata
Jodera aja tadha vaeu
Tmi uta samjhi rune
Ma ata tadpine
……. …….. ……..
Afno vanne arkai ko naso vo
Yeo dindagi bairi lae haso vo
Rowunu roweo papi maya
Balla aja chine
Najodnu nai theo nata
Jodera aja tadha vaeu
Tmi uta samjhi rune
Ma ata tadpine
Arkai ko naso vo
Yeo dindagi bairi lae haso vo
Rowunu roweo papi maya
Balla aja chine
Najodnu nai theo nata
Jodera aja tadha vaeu
Tmi uta samjhi rune
Ma ata tadpine
Najodnu nai theo nata
Jodera aja tadha vaeu
Tmi uta samjhi rune
Ma ata tadpine
…… …… ………