Piratiko Juwa by Shakti Chand and Jyoti Magar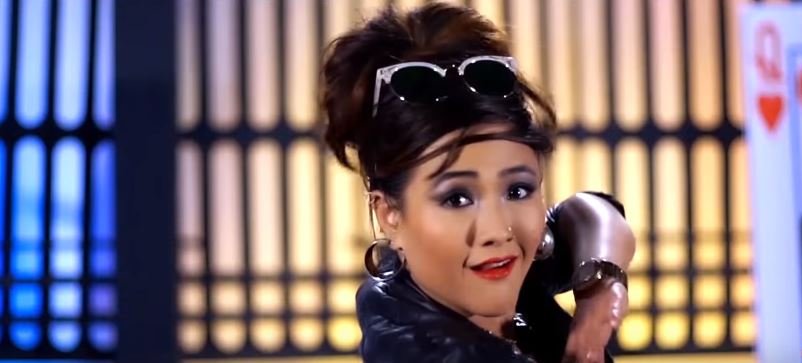 Piratiko Juwa is a hot Nepali lok dohori song by Shakti Chand and Jyoti Magar. The music video features Parbati Rai and Yam Ranamagar. Piratiko Juwa is directed by Babbu Thapa. This music video was edited by Prabin Bhatt and was cinematographed by Karan Chaisir.
The lyrics and music for the song was composed by Ek Narayan Bhandari. The music video features hot and dazzling model Parbati Rai. Parbati Rai is a hot, sexy and gorgeous model who has given her best performance in this music video. She has done numerous lok dohori music video, modeling assignments and appears in shows and cultural programs. She got invitation in shows in and out of Nepal because she is a good dancer. Mostly in her music videos, she performed with one of the popular director and model Shankar BC. Piratiko Juwa music video was presented by Hamal Music. When you once listen this song, I am sure you will keep tuning it.
Piratiko Juwa is released officially online by Music Nepal via Youtube. Hope that you will enjoy this romantic and melodious lok dohori song.
Here is the lyrics for the song Piratiko Juwa:
Bau mare ni juware uthdaina
Mai mare ni pirti tutdaina
Maile ekka hanchhu…..
Maile ekka hanchhu
Tmle handa messi
Maile chauka tannchhu
Tmle tanda duwa
Khlene vaye khelam
Kanchhi pirati ko juwa
Juware uthdaina
Mai mare ni pirti tutdaina
Maile ekka hanchhu…..
Maile ekka hanchhu
Tmle handa messi
Maile chauka tannchhu
Tmle tanda duwa
Khlene vaye khelam
Kanchhi pirati ko juwa
Khlene vaye khelam
Suwa pirati ko juwa
Juwa khelda police le samauchha
Maya khelda duniya ramauchha
Maile ekka hanchhu…..
Maile ekka hanchhu
Tmle handa messi
Maile chauka tannchhu
Tmle tanda duwa
Khlene vaye khelam
Kanchhi pirati ko juwa
Police le samauchha
Maya khelda duniya ramauchha
Maile ekka hanchhu…..
Maile ekka hanchhu
Tmle handa messi
Maile chauka tannchhu
Tmle tanda duwa
Khlene vaye khelam
Kanchhi pirati ko juwa
He Khlene vaye khelam
Bachha pirati ko juwa
…… …… …… …..
Sanai chhada suneko gauma
Swasni ni thapthe re juwa ma
Maile ekka hanchhu…..
Maile ekka hanchhu
Tmle handa messi
Maile chauka tannchhu
Tmle tanda duwa
Khlene vaye khelam
Suwa pirati ko juwa
Suneko gauma
Swasni ni thapthe re juwa ma
Maile ekka hanchhu…..
Maile ekka hanchhu
Tmle handa messi
Maile chauka tannchhu
Tmle tanda duwa
Khlene vaye khelam
Kachhi pirati ko juwa
Khlene vaye khelam
Suwa pirati ko juwa
Jitne khelchha dherai dhan jutauna
Harne khelchha hareko uthauna
dherai dhan jutauna
Harne khelchha hareko uthauna
Maile ekka hanchhu…..
Maile ekka hanchhu
Tmle handa messi
Maile chauka tannchhu
Tmle tanda duwa
Khlene vaye khelam
Kachha pirati ko juwa
dherai dhan jutauna
Harne khelchha hareko uthauna
dherai dhan jutauna
Harne khelchha hareko uthauna
Maile ekka hanchhu…..
Maile ekka hanchhu
Tmle handa messi
Maile chauka tannchhu
Tmle tanda duwa
Khlene vaye khelam
Kachha pirati ko juwa
He Khlene vaye khelam
Bachha pirati ko juwa
….. ….. …….
Jasto maya ustai nai tas huchhha
Sas rahunjel aerahane ass hunchha
Maile ekka hanchhu…..
Maile ekka hanchhu
Tmle handa messi
Maile chauka tannchhu
Tmle tanda duwa
Khlene vaye khelam
Suwa pirati ko juwa
Ustai nai tas huchhha
Sas rahunjel aerahane ass hunchha
Maile ekka hanchhu…..
Maile ekka hanchhu
Tmle handa messi
Maile chauka tannchhu
Tmle tanda duwa
Khlene vaye khelam
Kanchhi pirati ko juwa
Khlene vaye khelam
Suwa pirati ko juwa
Maile hare tmro ghar mai jaula
Maile jite tmilae laijaula
Maile ekka hanchhu…..
Maile ekka hanchhu
Tmle handa messi
Maile chauka tannchhu
Tmle tanda duwa
Khlene vaye khelam
Kachha pirati ko juwa
tmro ghar mai jaula
Maile jite tmilae laijaula
Maile ekka hanchhu…..
Maile ekka hanchhu
Tmle handa messi
Maile chauka tannchhu
Tmle tanda duwa
Khlene vaye khelam
Kachha pirati ko juwa
He Khlene vaye khelam
Bachha pirati ko juwa
……. …… …… ……