Rasa Rasa by Bikram Pariyar and Devi Gharti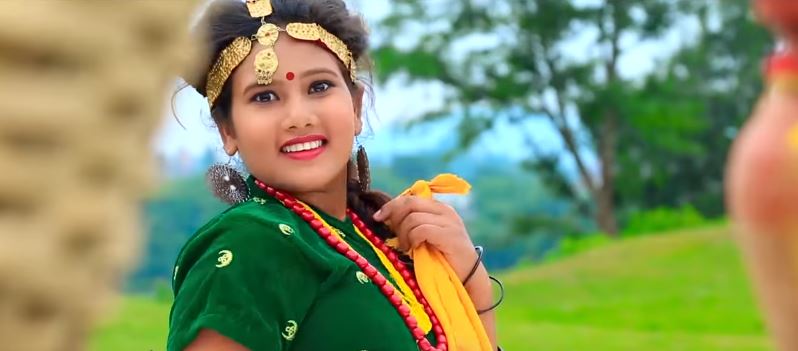 Rasa Rasa is a Nepali lok dohori song by Bikram Pariyar and Devi Gharti. This music video is full of entertainment. The music video features Babbu Thapa and Bipana Pariyar. Rasa Rasa is directed by Mausam Himali. This music video was edited by Prabin Bhatt and was cinematographed by Dinesh Bantawa Rai.
The lyrics and music for the song was composed by Shiva Hamal. The music video features gorgeous model  of music industry, Bipana Pariyar. She has given her best performance in this music video and numerous other music videos. In this music video Bipana performed with another multi-talented well known director and dancer Babu Thapa. He has directed hundreds of music video and in some of them he has also given his performance This music video was presented by Ashish Music. When you once listen this song, I am sure you will keep tuning it.
Rasa Rasa is released officially online by Music Nepal via Youtube. Hope that you will enjoy this romantic and melodious lok dohori song.
Quoted below is the lyrics for the song Rasa Rasa:
Hoo aee ahileko sal ma
Tilicho tal ko machhi pareo jalma
Aileko sal ma
Tilicho tal ko machhi pareo jalma
Mai pani aba jutum ki kya ho
Pirati ko khal ma
Rasa rasa
Rasa rasa dhayeri rasa
Rasa khane man vaye aee basa
Rasa rasa dhayeri rasa
Rasa khane man vaye aee basa
Rasa rasa dhayeri rasa
Rasa khane man vaye aee ba
Aaaa Rasa khane man vaye aee ba
Oee purbai ra disa ujyalo vayeo
Tin tara udayae
Purbai ra disa ujyalo vayeo
Tin tara udayae
Man ko vasa manaile bujhtheo
Najara judhaye
Rasa rasa
Rasa rasa dhayeri rasa
Rasa khane man vaye aee basa
Rasa rasa dhayeri rasa
Rasa khane man vaye aee basa
Rasa rasa dhayeri rasa
Rasa khane man vaye aee ba
Aaaa Rasa khane man vaye aee ba
Aee purbai ra disa ujyalo vayeo
…….. …….. ……. …….
Oeee jug jane maya
Lagau ki saili
Hitta chitta mile
Aaa aaa Jug jane maya
Lagau ki saili
Hitta chitta mile
Vok pani chhain nid pani chhain
Tmrai mohani le
Rasa rasa
Rasa rasa dhayeri rasa
Rasa khane man vaye aee basa
Rasa rasa dhayeri rasa
Rasa khane man vaye aee basa
Rasa rasa dhayeri rasa
Rasa khane man vaye aee ba
Aaaa Rasa khane man vaye aee ba
Oeee koilile gaeo biraha layeo
Godhuli sajhaima
Koilile gaeo biraha layeo
Godhuli sajhaima
Ayera charai basauna malae
Mutuko majhaima
Rasa rasa
Rasa rasa dhayeri rasa
Rasa khane man vaye aee basa
Rasa rasa dhayeri rasa
Rasa khane man vaye aee basa
Rasa rasa dhayeri rasa
Rasa khane man vaye aee ba
Aaaa Rasa khane man vaye aee ba
……. ……. ……. ……