Sexy Jawani by Kapil Magar and Susmita Magar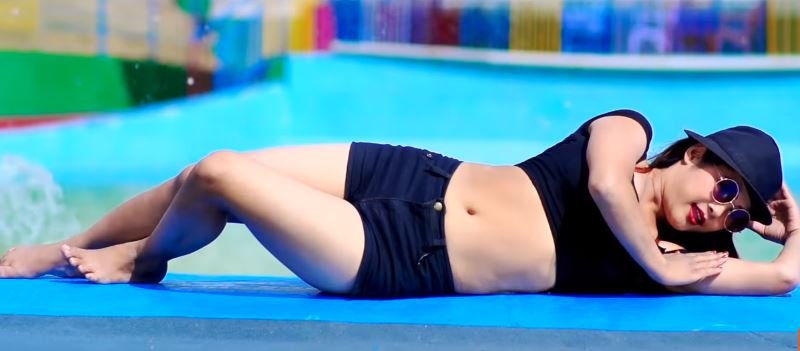 Sexy Jawani is a new romantic and sexy lok dohori song by Kapil Magar and Susmita Magar. This music video is directed by Bikram Chauhan. The music video features Rina Thapa. Sexy Jawani music video was edited by Milan B.K. and Music video was cinematographed by Karan Chaisir.
The music for this song was composed by Kapil Magar and lyrics for the song was written by Susmita Magar. Rina Thapa is beautiful model with good body structure who performed many music videos. In this music video, she performed with Kapil Magar and make this music video interesting. Sexy Jawani is a full package of entertaining and romance. Furthermore, Kapil Magar and Susmita Magar have added their sweet voice to make the song more melodious like adding good smell in gold. This music video was post production by B Star Films Pvt. Ltd. When you once listen this song, I am sure you will keep repeating it.
The music video is released officially online by HighlightsNepal via Youtube. Hope that you will enjoy this romantic song Sexy Jawani.
Here is the lyrics for the song Sexy Jawani:
Ma huda ni ka janchheu
Kunni kunni
Teo jawani samahlne ma chu ni
Baisa chadeo chalchal keo pani
He pani pani ….
Chal chal keo pani
Samahlchhu hai tmro
Teo sexy jawani
Ma huda ni ka janchheu
Kunni kunni
Teo jawani samahlne ma chu ni
Baisa chadeo chalchal keo pani
He pani pani ….
Chal chal keo pani
Samahlchhu hai tmro
Teo sexy jawani
Chal chal keo pani
Samahlchhu hai tmro
Teo sexy jawani
Sora barse umer vo mero he mero
Jawani le parechha apthero
Baisa chadeo chalchal keo pani
He pani pani ….
Chal chal keo pani
Samahlideu mero yeo tmro
Teo sexy jawani
Sora barse umer vo mero he mero
Jawani le parechha apthero
Baisa chadeo chalchal keo pani
He pani pani ….
Chal chal keo pani
Samahlideu mero yeo tmro
Teo sexy jawani
Chal chal keo pani
Samahlideu mero yeo tmro
Teo sexy jawani
…… …… ……
Sani sani theu ni nai he nani
Auu samahalchhu tmro
Teo jawani
Baisa chadeo chalchal keo pani
He pani pani ….
Chal chal keo pani
Samahlchhu hai tmro
Teo sexy jawani
Sani sani theu ni nai he nani
Auu samahalchhu tmro
Teo jawani
Baisa chadeo chalchal keo pani
He pani pani ….
Chal chal keo pani
Samahlchhu hai tmro
Teo sexy jawani
Chal chal keo pani
Samahlchhu hai tmro
Teo sexy jawani
Hasne nachhne due din ko chola
Baisa chadeo samahlne ko hola
Baisa chadeo chalchal keo pani
He pani pani ….
Chal chal keo pani
Samahlideu mero yeo tmro
Teo sexy jawani
Hasne nachhne due din ko chola
Baisa chadeo samahlne ko hola
Baisa chadeo chalchal keo pani
He pani pani ….
Chal chal keo pani
Samahlideu mero yeo tmro
Teo sexy jawani
Chal chal keo pani
Samahlideu mero yeo tmro
Teo sexy jawani
….. ….. …..
Astai astai hunchha ni
Baisama he baisama
Khera jala jawani
Paisama
Baisa chadeo chalchal keo pani
He pani pani ….
Chal chal keo pani
Samahlchhu hai tmro
Teo sexy jawani
Astai astai hunchha ni
Baisama he baisama
Khera jala jawani
Paisama
Baisa chadeo chalchal keo pani
He pani pani ….
Chal chal keo pani
Samahlchhu hai tmro
Teo sexy jawani
Chal chal keo pani
Samahlchhu hai tmro
Teo sexy jawani
Baisa chadeo
Kaukuti lako chha lako chha
K garam hai k garam vako chha
Baisa chadeo chalchal keo pani
He pani pani ….
Chal chal keo pani
Samahlideu mero yeo tmro
Teo sexy jawani
Baisa chadeo
Kaukuti lako chha lako chha
K garam hai k garam vako chha
Baisa chadeo chalchal keo pani
He pani pani ….
Chal chal keo pani
Samahlideu mero yeo tmro
Teo sexy jawani
Chal chal keo pani
Samahlideu mero yeo tmro
Teo sexy jawani
….. ….. ……