Supari Kacho by Tejas Regmi and Durga Sapkota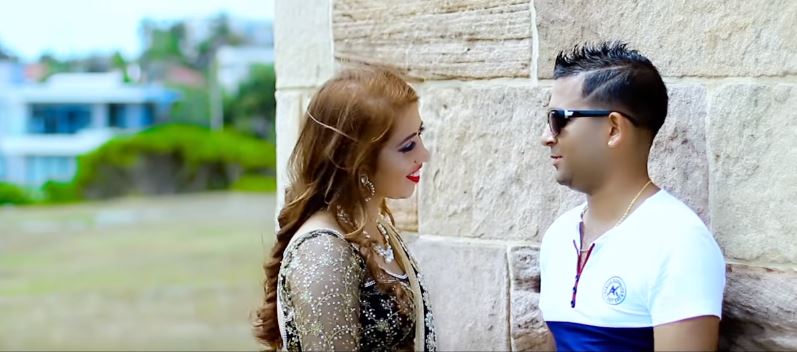 Supari Kacho is a new Nepali lok dohori song by Tejas Regmi and Durga Sapkota. The music video features Bijay, Pabitra and Rishi. Supari Kacho is directed by Bijay Thapa. This music video was edited by Amar Shakya and was cinematographed by Namit Chandra Thakuri.
The lyrics and music for the song was composed by Tejas Regmi. The music video full package of entertainment. Here in this music video the actors Pabitra, Bijay and Rishi have performed together in realistic way and given this video a natural look. The singer Tejas and Durga have made this song so melodious with their melodic voice. This music video was presented by Kamana Digital Pvt. Ltd. When you once listen this song, I am sure you will keep tuning it.
Supari Kacho is released officially online by Music Nepal via Youtube. Hope that you will enjoy this romantic and melodious lok dohori song.
Here is the lyrics for the song Supari Kacho:
Bujhaki chhau
Herdaima sojhi chhau
Jiban sathi khai
Kasto khojichhau
Supari kacho
Supari kacho
Supari kacho
Tmlae mero k chha khoe kunnni
Malae tmro khacho
Herdaima sojhi chhau
Jiban sathi khai
Kasto khojichhau
Supari kacho
Supari kacho
Supari kacho
Tmlae mero k chha khoe kunnni
Malae tmro khacho
Malae tmro khacho
Tmlae mero k chha khoe kunnni
Malae tmro khacho
Malae tmro khacho
Ghar ma magna aune ko line chha
Male vane tmi nai chaenchha
Supari kacho
Supari kacho
Supari kacho
Tmlae mero k chha khoe kunnni
Malae tmro khacho
Malae tmro khacho
aune ko line chha
Male vane tmi nai chaenchha
Supari kacho
Supari kacho
Supari kacho
Tmlae mero k chha khoe kunnni
Malae tmro khacho
Malae tmro khacho
Tmlae mero k chha khoe kunnni
Malae tmro khacho
Malae tmro khacho
…… …… …… …..
Ghar ma buhari
Navako avab ma
Bihe garna parya chhan
Dabab ma
Supari kacho
Supari kacho
Supari kacho
Tmlae mero k chha khoe kunnni
Malae tmro khacho
Malae tmro khacho
Navako avab ma
Bihe garna parya chhan
Dabab ma
Supari kacho
Supari kacho
Supari kacho
Tmlae mero k chha khoe kunnni
Malae tmro khacho
Malae tmro khacho
Tmlae mero k chha khoe kunnni
Malae tmro khacho
Malae tmro khacho
Akura ko man dekhi fakaenchha
Navane hai gali le fakaenchha
Supari kacho
Supari kacho
Supari kacho
Tmlae mero k chha khoe kunnni
Malae tmro khacho
Malae tmro khacho
Man dekhi fakaenchha
Navane hai gali le fakaenchha
Supari kacho
Supari kacho
Supari kacho
Tmlae mero k chha khoe kunnni
Malae tmro khacho
Malae tmro khacho
Tmlae mero k chha khoe kunnni
Malae tmro khacho
Malae tmro khacho
…… …… …… ……