Teej Song Yo Teeja Ma Chhamkera Nachne Ho by Devi Gharti and Arpan Suresh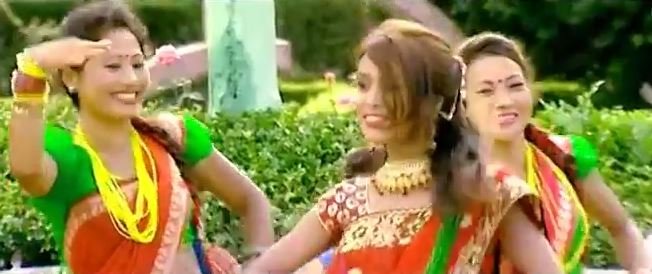 Yo Teeja Ma Chhamkera Nachne Ho is a new Nepali teej song by Devi Gharti and Arpan Suresh. The song is based on Nepali women's great festival 'Haritalika Teej' and wants to deliver warm wishes in the occasion of Haritalika Teej. This music video is directed by Pradeep Shrestha and edited by Dawa Sherpa. Gokul Adhikari is the cinematographer.
The lyrics for the song was written by Santosh K. Bastola and the music is composed by Arpan Suresh. The artists performed in very well manner. The music video is released on the occasion of Nepali festival 'Teej', which is one of the biggest festival of Nepal. Hartalika Teej welcomes the monsoon season and celebrated primarily by girls and women, with songs, dancing and prayers. Married women observe Teej fast to honor Lord Shiva and for long and healthy life of their husband. Unmarried girls also observe fast on this day for a good husband. Once you listen to this song, I am sure you will keep tuning it.
Yo Teeja Ma Chhamkera Nachne Ho is released officially online by Budha Subba Digital Pvt Ltd via Youtube. Hope that you will enjoy this romantic and melodious Teej song:
Here is the lyrics for the song Yo Teeja Ma Chhamkera Nachne Ho:
He Phone garera hijo maile
Mayalu lae vane
He Phone garera hijo maile
Mayalu lae vane
Barsa din ko teej ko mela
Herna sangai jane
Yeo teej ma chamkerai nachne ho
Barule kammar vachhne ho
Yeo teej ma chamkerai nachne ho
Barule kammar vachhne ho
Chham chham chham
Chamkerai nachne ho
Barule kammar vachhne ho
Chamkerai nachne ho
Barule kammar vachhne ho
He deurali ma veta vae
Siva mandir jaula
He deurali ma veta vae
Siva mandir jaula
Sangai jiune Sangai marne
Bacha kasam khaula
Yeo teej ma chamkerai nachne ho
Barule kammar vachhne ho
Yeo teej ma chamkerai nachne ho
Barule kammar vachhne ho
Chham chham chham
Chamkerai nachne ho
Barule kammar vachhne ho
Chamkerai nachne ho
Barule kammar vachhne ho
………. ………. ……………
He Malae pani sikaedeuna
Nachne kaso gari
He Malae pani sikaedeuna
Nachne kaso gari
Markayera yeo kammara
Vachhne kaso gari
Yeo teej ma chamkerai nachne ho
Barule kammar vachhne ho
Yeo teej ma chamkerai nachne ho
Barule kammar vachhne ho
Chham chham chham
Chamkerai nachne ho
Barule kammar vachhne ho
Chamkerai nachne ho
Barule kammar vachhne ho
He Mayalule vanepachhi
Mata unkai sath ma
He Mayalule vanepachhi
Mata unkai sath ma
Chhamki chhamki nachum jhai vo
Samae daine hat ma
Yeo teej ma chamkerai nachne ho
Barule kammar vachhne ho
Yeo teej ma chamkerai nachne ho
Barule kammar vachhne ho
Chham chham chham
Chamkerai nachne ho
Barule kammar vachhne ho
Chamkerai nachne ho
Barule kammar vachhne ho
………. ………. ……………