Thado bhaka by Pashupati Sharma and Rita Thapa Magar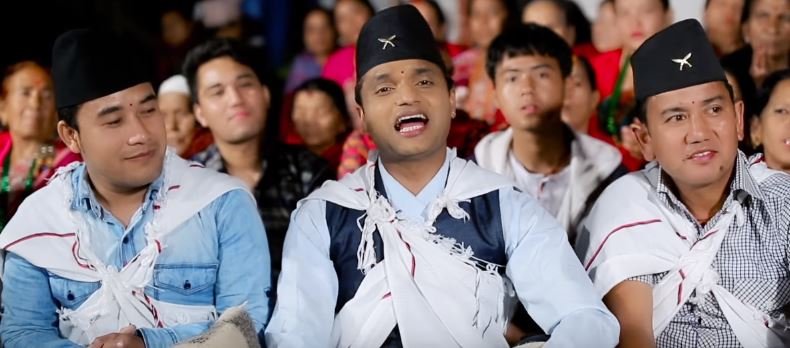 Thado bhaka is one of the variation of the lok dohori song. The vocal for this song was given by Pashupati Sharma and Rita Thapa Magar. This music video was directed by Prakash Bhatta and was edited by Bishnu Sharma.The cinematography was done by Raju KC.
The audio and video was done by Samdhini Sangeet Pvt. Ltd. This music video was post production by Sai Vision Pvt. Ltd. Pashupati  Sharma is the one of the best vocalist in the music industry. He has given his sweet voice to many other songs. Thado vaka is most popular in Lamjung specially in Gurung community. This type of song has a unique lyrics with amazing music. I assure you people will love the music and tune repeatedly once after you hear it.
The music video is officially released online by Rita Thapa Magar via Youtube. Hope that you will enjoy this melodious traditional song thado bhaka.
Here is the lyrics for the song:
Ha ha haaa
Ramrai bolda maile
Chha Sat barsa paile
Thiyeo malae karaaki
Ha ha oiee malae karaki
Oie hola rahh
Assai maya jala
Karai malae karaki
Ha ha aa ha
Atto patto xoina
Ma pani testai
Meri sathi ka xau vani
Khojna pani gaena
Ek din sabai marni
K karan theo ni tahh
Bepattai huna parni
Ha ha aaa
Base mutu jalae
Asti hita ki sathi
Vet nahuda attyas latheo
Malae
Kallae joban diyeu
Kun mulukma theu
Ka theu ra haraaaki
Ha ha aa hoo
Teu ra haraki
Ho hola rahh
Assai maya jala haraki
Ha ha aaa
Sukhai sita kahexu
Byapar garna laexu
Maile jiban chinera
Ha aaa jiban chinera
Hoe hola rahh
Assai maya jala
Chinera jiban chinera
Ha aaa aaa
Balla bujhna thale
Sodhi khoji kei garnau
Thikka parchhau kale
Afai tadha hune
Teti maya vako vaye
Khojna autheu
Vaye ni pani muni
Ha ha ha aaa
Para para sarne
Paila paila vet huda
Tmi masanga jhagada
Matrai garne
Kapal battne riban
Chalthena mero jiban
Tmro pachhi hinera
Ha ha pachhi hinera
Oee hola ra
Assai maya jala
Hinera
Ha ha haaaa
Makai lae kani
Authe hola ma ni
Hineu tadha banera
Ha aa hoo
Tadha banera
Oe hola rahh
Assai maya jala
Banera tadha banera
Ha ha haaaaa
Lagani chha kati
Byapar tir laye pachhi
Birseu pashupati
Ha ha aaa
Tmlae kati tha chha
Paila vanda mero pani
Pragati hudai gachha
Mohi parne theki
Tmle malae khabar gari
Bolako vaye dekhi
Tmro dukha chinthe
Das hajar ko bil ayeni
Bisai hajar dinthe
Rakha ri taah vanera
Ha ha oeee
Ri tah vanera
Oe hola rahh
Assai maya jala
Vanera
… … …