Timro Budho Bidesh By Roshan Gaire and Ritu Thapa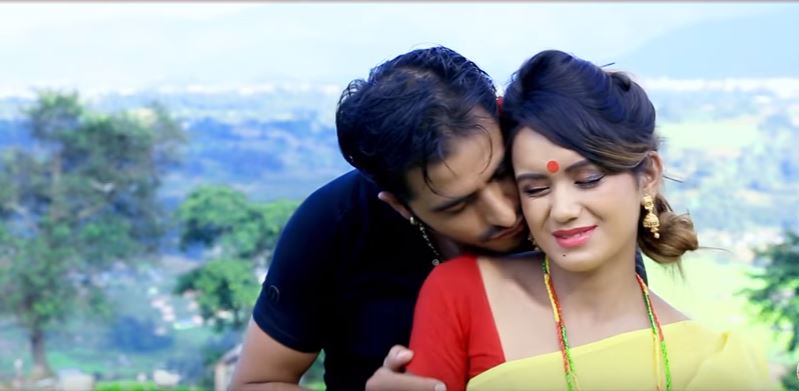 Timro Budho Bidesh is a new Nepali lok dohori song by Roshan Gaire and Ritu Thapa. The music video features Bimal Adhikari and Sarika KC. Timro Budho Bidesh is a lok dohori song that revels the cheating of wife to her husband who works for their future in abroad. This music video is directed by Kapil Lama. Timro Budho Bidesh music video was edited by Sujan Sahi and cinematographed by Suresh Shrestha.
The lyrics as well as music for the song was composed by Roshan Gaire. Sarika Kc is a beautiful model and performed hundreds of music videos and some Nepali movies too. She starts her movie career from movie Kanchi Matyang Tang. Timro Budho Bidesh is Roila lok dohori song who describes the common problem of our society that is some housewifes cheat their husband and pretend that they are loyal to them. Timro Budho Bidesh was presented by Rashika Digital Pvt. Ltd. When you once listen this song, I am sure you will keep tuning it.
Timro Budho Bidesh is released officially online by Music Nepal via Youtube. Hope that you will enjoy this melodious Roila lok dohori.
Here is the lyrics for the song Timro Budho Bidesh:
Maya gari diyeki chhau
Basna ani khana
Maya gari diyeki chhau
Basna ani khana
Ghar ki budhi kich kiche chha
Manai chhaina jana
Malae attai free chha….
Tmro budho bides
Uslae tirimiri chha
Malae attai freee chha
Tmro budho bides
Uslae tirimiri chha
Malae attai freee chha
Tmro budho bides
Uslae tirimiri chha
Malae attai freee chha
Mero pani dherai
Tmro maya lauchha
Jadi bidhi huna hunna
Gaule le tha pauchha
K garam tahh maile ni……
Ghar jau vanda keri
Janna vanchhau jaile ni
K garam tahh maile ni
Ghar jau vanda keri
Janna vanchhau jaile ni
K garam tahh maile ni
Ghar jau vanda keri
Janna vanchhau jaile ni
K garam tahh maile ni
….. ….. …… ….
Kati maya garchhu maile
Tmlae pani tha chha
Kati maya garchhu maile
Tmlae pani tha chha
Due char hajar poiso
Chaeo goji rittai vachha
Layauna malae sapati….
Sake vane tirchhu
Namana kei apati
Layauna malae sapati
Sake vane tirchhu
Namana kei apati
Layauna malae sapati
Sake vane tirchhu
Namana kei apati
Layauna malae sapati
Mero atti khyal garchhau ki
Merai lagi marchhau
Mero atti khyal garchhau ki
Merai lagi marchhau
Jabo due char hajar pani
K ko firta garchhau
Laejau tirna pardaina….
Budho ko kami chhha
Khasai matlab gardaina
Laejau tirna pardaina
Budho ko kami chhha
Khasai matlab gardaina
Laejau tirna pardaina
Budho ko kami chhha
Khasai matlab gardaina
Laejau tirna pardaina
….. …. ….. ……
Manchhe k tahh
Chandra ma ni
Tmro daene parun
Manchhe k tahh
Chandra ma ni
Tmro daene parun
Vagawan le tmro poe ko
Sadhai rakshya garun
Sadhai maya garna pau….
Dukha pareo vane
Dukha dekhae marna pau
Sadhai maya garna pau
Dukha pareo vane
Dukha dekhae marna pau
Sadhai maya garna pau
Dukha pareo vane
Dukha dekhae marna pau
Sadhai maya garna pau
Hamro maya assai
Chhute atti man runna
Hamro maya assai
Chhute atti man runna
Budho aune bela vachha
Aba vettna hunna
Hamro maya harne chha
Tha paee haleo vane
Malae sidhai marne chha
Hamro maya harne chha
Tha paee haleo vane
Malae sidhai marne chha
Hamro maya harne chha
Tha paee haleo vane
Malae sidhai marne chha
Hamro maya harne chha
…. ….. …… ……