Todau Nata by Bal Krishna BC and purnakala BC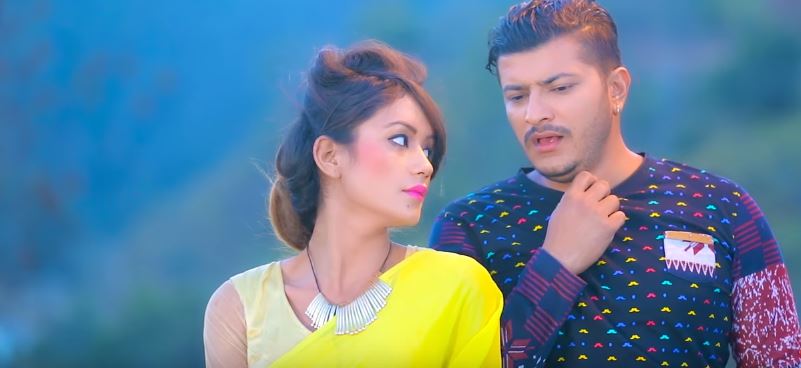 Todau Nata is a new sentimental lok dohori song by Bal Krishna BC and purnakala BC. The music video features Mahendra Gautam and Sarika KC. Todau Nata is a lok dohori song that express the culture of racism by cast. This music video is directed by Madan Khadka. Todau Nata was cinematographed by Tanka KC and edited by Bikash Gyawali.
The lyrics for the song was written by Nada Sing Pun and Dolma Lama and music for the song was composed by GC Amar. This music video features gorgeous well known model Sarika KC and handsome actor Mahendra Gautam. Artists Mahendra Gautam and Sarika KC both of them have performed in such a realistic way that music video will clearly represents the story that songs wants to deliver. Sarika has done numerous music video mostly lok dohori songs. In Todau Nata music video, Sarika plays a role of high class cast and Mahendra is lower cast. They both starts loving each other but the society refused their relation and punish Mahendra. Todau Nata was presented by Tea Time Music Pvt. Ltd. When you once listen this song, I am sure you will keep tuning it.
Todau Nata is released officially online by Tea Time Music via Youtube. Hope that you will enjoy this melodious sentimental lok dohori.
Here is the lyrics for the song Todau Nata:
Hoooo adha patu
Mutu ko badhe ni
Chhodina sath kasam khae vaneni
Todeu nata juni juni ko
Tmi hunu akas ko jun sari
Ma ta ful hu bato muni ko
Mutu ko badhe ni
Chhodina sath kasam khae vaneni
Todeu nata juni juni ko
Tmi hunu akas ko jun sari
Ma ta ful hu bato muni ko
Tmi hunu akas ko jun sari
Ma ta ful hu bato muni ko
Ma ta ful hu bato muni k
Hooo afno mukh tah
Aenam hera jau
Mero samu napara chheu na auu
Todeu nata juni juni ko
Tmi hunu akas ko jun sari
Ma ta ful hu bato muni ko
Aenam hera jau
Mero samu napara chheu na auu
Todeu nata juni juni ko
Tmi hunu akas ko jun sari
Ma ta ful hu bato muni ko
Tmi hunu akas ko jun sari
Ma ta ful hu bato muni ko
Ma ta ful hu bato muni ko
…….. …….. ……..
Hoo ho sambandha theo
Jun ani adheri
Vari gaeu bachan ko padheri
Todeu nata juni juni ko
Tmi hunu akas ko jun sari
Ma ta ful hu bato muni ko
Jun ani adheri
Vari gaeu bachan ko padheri
Todeu nata juni juni ko
Tmi hunu akas ko jun sari
Ma ta ful hu bato muni ko
Tmi hunu akas ko jun sari
Ma ta ful hu bato muni ko
Ma ta ful hu bato muni ko
…….. ……. ……