Yi Aankhako Nani by Bishnu Majhi and Rishi Khadka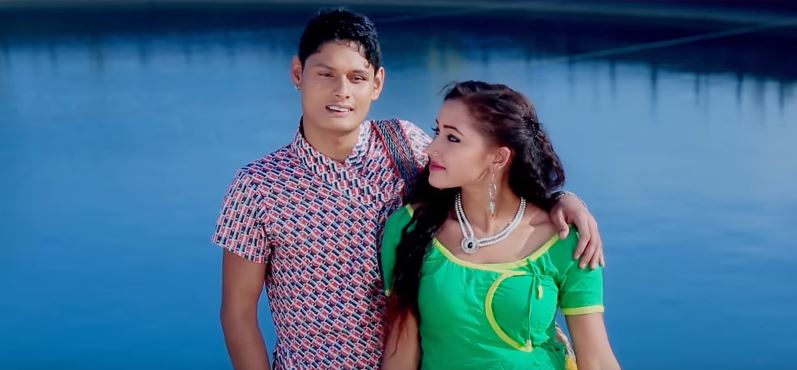 Yi Aankhako Nani is a new Nepali melodious lok dohori song by Bishnu Majhi and Rishi Khadka. The music video features Asha Khadka and Rajan. Yi Aankhako Nani is directed by Kapil Lama. This music video was edited by Sujan Shahi and cinematographed by Harish Mahara.
The music for this song was composed by Rishi Khadka and lyrics for this song was written by Rajan BK. Asha Khadka is a gorgeous model of music industry she has given her best performance in this music video. This lok dohori song is based on the love between husband and wife. Yi Aankhako Nani music video also shows that your pain will go away with a smiley face of your loved one. When you once listen this song, I am sure you will keep repeating it.
The music video is released officially online by Music Nepal via Youtube. Hope that you will enjoy this melodious lok dohori song Yi Aankhako Nani.
Here is the lyrics for the song:
Sunakai darbar
Chaedaina chaediana
Baru dhoka dina paedaina
Aee ankha ko nani vitra
Tmale sajhauchhu
Vok pani laudaina
Pyas pani laudaina
Tmro khusi muhar dekhda
Assai aghauxu
Sunakai darbar
Chaedaina chaediana
Baru dhoka dina paedaina
Aee ankha ko nani vitra
Tmale sajhauchhu
Vok pani laudaina
Pyas pani laudaina
Tmro khusi muhar dekhda
Assai aghauxu
Vok pani laudaina
Pyas pani laudaina
Tmro khusi muhar dekhda
Assai aghauxu
Sajhae rachhu
Ankhaim Ankhaima
Sowrga pauchhu tmro kakhaima
Eee ankha ko nani vitra
Tmlae sajauchhu
Vok pani laudaina
Pyas pani laudaina
Tmro khusi muhar dekhda
Tessai aghauxu
Sajhae rachhu
Ankhaim Ankhaima
Sowrga pauchhu tmro kakhaima
Eee ankha ko nani vitra
Tmlae sajauchhu
Vok pani laudaina
Pyas pani laudaina
Tmro khusi muhar dekhda
Tessai aghauxu
Vok pani laudaina
Pyas pani laudaina
Tmro khusi muhar dekhda
Tessai aghauxu
… … …
Jado chhekne
Gham bana gham bana
Binti tadha hunchhu navana
Aee ankha ko nani vitra
Tmale sajhauchhu
Vok pani laudaina
Pyas pani laudaina
Tmro khusi muhar dekhda
Assai aghauxu
Jado chhekne
Gham bana gham bana
Binti tadha hunchhu navana
Aee ankha ko nani vitra
Tmale sajhauchhu
Vok pani laudaina
Pyas pani laudaina
Tmro khusi muhar dekhda
Assai aghauxu
Vok pani laudaina
Pyas pani laudaina
Tmro khusi muhar dekhda
Assai aghauxu
… … …