Kasto Bityo Din by Bishnu Majhi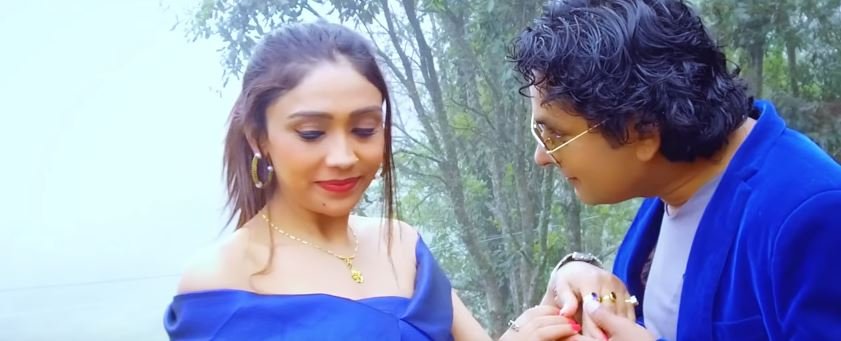 Kasto Bityo Din is a new sentimental lok dohori song by Bishnu Majhi. The music video features Usha khanal, Sabina Karki and Sundar Mani. Kasto Bityo Din is a lok dohori song that represents the unsuccessful love story between two lovers. This music video is directed by Shiva B.k. Kasto Bityo Din was cinematographed by Samboo Chalise and edited by Sujan Shahi.
The lyrics for the song was written by Sundar Mani Adhikari and music for the song was also composed by Sundar Mani Adhikari. Artists Usha khanal, Sabina Karki and Sundar Mani have performed together to make this music video wonderful. In this music video singer Bishnu Majhi has given her melodic voice. Bishnu Majhi is the well known singer with great voice and sings mostly emotional lok dohori songs. In Kasto Bityo Din, Usha and Sabina love each other but unfortunately Sabina has to marry marry another girl. Now both of them are living the life without happiness and joy. The music video is presented by Sapana Music Industries Pvt. Ltd. When you once listen this song, I am sure you will keep tuning it.
Kasto Bityo Din is released officially online by Sapana Music Industries via Youtube. Hope that you will enjoy this melodious sentimental lok dohori.
Here is the lyrics for the song Kasto Bityo Din:
Kasto biteo din tmro
Kasto biteo rat
Kasto biteo din tmro
Kasto biteo rat
Malae chhodi paraeko
Paye pachhi satha
Ho ho Malae chhodi paraeko
Paye pachhi satha
Kasto biteo din tmro
Kasto biteo rat
Hmm………….
Kunni k ko parkhaema
Dhadkan badhdai gaeo hola
Kunni k ko parkhaema
Dhadkan badhdai gaeo hola
Halka halka jawani ko
Nasa chaddai gayo hola
Nasa chaddai gayo hola
Nasa chaddai gayo hola
Kasto biteo din tmro
Kasto biteo rat
Hammmm…………………………
Angalo ma badhiyara
Sari rata kateu hola
Angalo ma badhiyara
Sari rata kateu hola
Mitha mitha rahara haru
Tmle pani sateu hola
Tmle pani sateu hola
Tmle pani sateu hola
Kasto biteo din tmro
Kasto biteo rat
Hammmm…………………………