Banaiko Kafal by Nabin Rana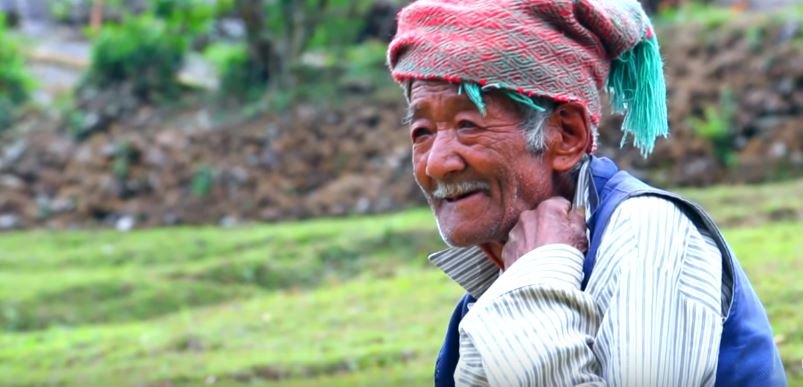 Banaiko Kafal is a sad Nepali folk song by Nabin Rana. This music video features Ujir Pun Magar who is 86 years old. This music video is directed by Gobinda Pun Magar and edited as well as cinematographed by Dhan Bahadur Shreesh Magar.
The music for this song is composed by Shree Krishna Bam Malla and the lyrics is written by Bhimesen Kandel. Banaiko Kafal is the sentimental folk song which is based on the abandoned father and his struggle against lonely and aged life. In this music video, artist Ujir Pun Magar is a father of the son who went abroad and never came back. This music video encourages people to love and support their parents rather than leave them alone. If you are a soft-hearted person then I am sure after watching this you will not able to control your feelings.
Music video Banaiko Kafal is released officially online by Music Nepal via Youtube. Hope that you will enjoy watching this folk song.
Here is the lyrics for the song Banaiko Kafal:
Bainko kafal khane koe chhaina
Ma jana sakdina
Tanneri chhoro pardes ma gako
Ghar farki ayena
Bainko kafal khane koe chhaina
Ma jana sakdina
Tanneri chhoro pardes ma gako
Ghar farki ayena
Dadaiko kama vaesakeo barai
Sukha ra chaina
Mai budho assai marijau vane
Kalaile layena
Mai budho assai marijau vane
Kalaile layena
…. …. ….
Ghuyeli pakeo
Banchari pani banaima ramayeo
Ghuyeli pakeo
Banchari pani banaima ramayeo
Ko dela malae ek muthi paniiie
Asto ni din ayeo
Malae vabi le chheu layeo
Asto ni din ayeo
Malae vabi le chheu layeo
Banaiko tijo
Khane koe chhaina
Ma jana sakdina
Tanneri chhoro
Pardesma gako
Ghar Samjhi ayena
Dadaiko gham vaesake barai
Sahara koe chhaina
Mai budho assai marau vaneni
Kalai le layena
Mai budho assai marau vaneni
Kalai le layena
… …. …
Ukkali Worali Lauri ko var ma
Pachhi kyarne ho
Ukkali Worali Lauri ko var ma
Vachhi kyarne ho
Char bisa kate
Ekklo jyan ghar ma
Sansari dhamilo
Meo man hunchha amilo
Sansari dhamilo
Meo man hunchha amilo
Bainko kafal khane koe chhaina
Ma janai sakdina
Tanneri chhoro pardes ma gako
Ghar samjhi ayena
Dadaiko Ghama vaesakeo barai
Sukha ra chaina
Mai budho assai marijau vane
Kalaile layena
Mai budho assai marijau vane
Kalaile layena

… … …