Besi jhareko by Dipak Khadka & Samjhana Lamichhane Magar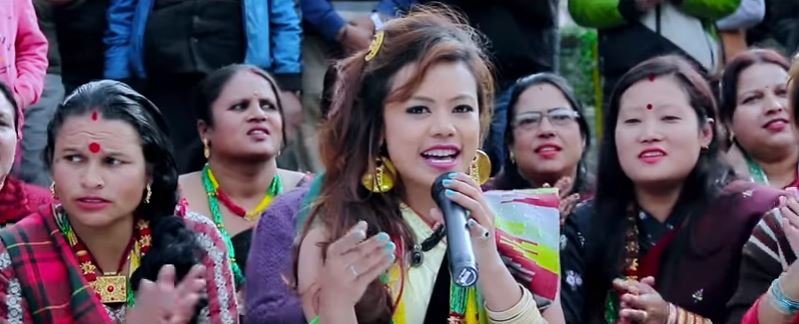 Besi Jhareko is a new Nepali lok dohori song by Dipak Khadka and Samjhana Lamichhane Magar. This music video is presented by Sai Vision. Besi Jhareko is directed by Prakash Bhatta. This music video was edited by Amar Shakya and cinematographed by Karan Chaisir.
The music for this song is composed by Dipak Khadka and lyrics for the song is written by Dipak Khadak himself. Besi Jhareko music video was post production by Sai Vision Pvt. Ltd. This music video represents the lovely conversation between Dipak Khadak and Samjhana Lamichhane Magar in musical way. I am sure that every lok dohori lover will appreciate once they watched this.When you once listen this song, believe me you will keep repeating it.
The music video is released officially online by Sai Vision via Youtube. Hope that you will enjoy this melodious lok dohori song.
Here is the lyrics for the song Besi Jhareko:
Kunai barsa Kunai din
Maina ma
Mukh dekhaunai
Laj lagtheo aeinama
Besi jhareko
Nakkali le garda nakkale
Huna pareko
Kunai din
Maina ma
Mukh dekhaunai
Laj lagtheo aeinama
Besi jhareko
Nakkali le garda nakkale
Huna pareko
Nakkali le garda nakkale
Huna pareko
Tiki gajal
Launa ni saram
Huntheo malae
K garam garam
Besi jhareko
Nakkale le garda nakkali
Huna pareko
Launa ni saram
Huntheo malae
K garam garam
Besi jhareko
Nakkale le garda nakkali
Huna pareko
Nakkale le garda nakkali
Huna pareko
… … …
Dekha sikhi gareko
Arkako
Tmrai nimti
Yeo julfi
Larkako
Besi jhareko
Nakkali le garda nakkale
Huna pareko
gareko
Arkako
Tmrai nimti
Yeo julfi
Larkako
Besi jhareko
Nakkali le garda nakkale
Huna pareko
Nakkali le garda nakkale
Huna pareko
Aja voli feridai gaki xu
Vanxan sangi
Ma arkai vaki xu
Besi jhareko
Nakkale le garda nakkali
Huna pareko
Feridai gaki xu
Vanxan sangi
Ma arkai vaki xu
Besi jhareko
Nakkale le garda nakkali
Huna pareko
Nakkale le garda nakkali
Huna pareko
… …. …
Rup ko raja
Manai ko dhani
Tmle garda
Vaesake ma pani
Besi jhareko
Nakkali le garda nakkale
Huna pareko
Manai ko dhani
Tmle garda
Vaesake ma pani
Besi jhareko
Nakkali le garda nakkale
Huna pareko
Nakkali le garda nakkale
Huna pareko
… … …