Dashain Song Aau Hai Pyara by Binu Tamang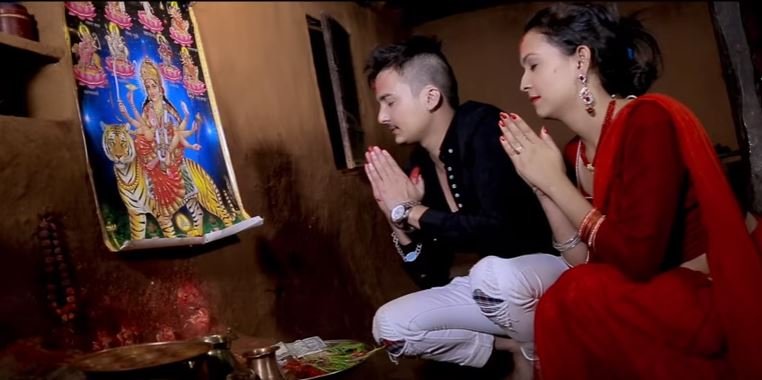 Aau Hai Pyara is a new Nepali Dashain song by Binu Tamang. The music video features OB Rayamajhi. The song is released on occasion of the biggest festival of Nepal namely 'Dashain' to wish all Hindu peoples in the occasion of this biggest festival. This is directed by Smriti Timilsina "Guruaama" and edited by Deepak Bista.
The lyrics for the song was written by Netra Aryal and the music for the song was composed by Binu Tamang. The music video features talented Nepali artists Obi Rayamajhi and Susmita Sapkota. The music video is based on the Nepal's biggest festival 'Bada Dashain'. Dahain is one of the most auspicious festival in Nepal, especially among the Hinduism followers. It is probably the longest festival in Nepal that lasts for fifteen days and is celebrated not only throughout the country but also in some other countries where Hindus have been living. Most people who go abroad, also reunite in Nepal to celebrate Dashain together. Aau Hai Pyara music video was presented by Aashish Music Pvt.Ltd. Once you listen to this song, I am sure you will keep tuning it.
Aau Hai Pyara is released officially online by Music Nepal via Youtube. Hope that you will enjoy this emotional and melodious Dashain song:
Here is the lyrics for the song Aau Hai Pyara:
Hee Rato tika jamara launa man
Jamara launa man
Lagdaina raaaa ghar farki auna man
Dashain ayeo piyara
Yespali ta jasari ni ghar au hai
Tika launaaaa piyara
Jamara launa man
Jamara launa man
Lagdaina raaaa ghar farki auna man
Dashain ayeo piyara
Yespali ta jasari ni ghar au hai
Tika launaaaa piyara
Tika launaaaa piyara………
He kamero le poteko dailo
Dashain tihar gaun ghar mai ramailo
He kamero le poteko dailo
Dashain tihar gaun ghar mai ramailo
Dashain tihar gaun ghar mai ramailo
………. …………. ……………
Heee hune theo Mero man dhukka
Mero ni man dhukka
Sanu vandai aediye tuplukka
Dashain ayeo piyara
Yespali ta jasari ni ghar au hai
Tika launaaaa piyara
Mero man dhukka
Mero ni man dhukka
Sanu vandai aediye tuplukka
Dashain ayeo piyara
Yespali ta jasari ni ghar au hai
Tika launaaaa piyara………….
He kamero le poteko dailo
Dashain tihar gaun ghar mai ramailo
He kamero le poteko dailo
Dashain tihar gaun ghar mai ramailo
Dashain tihar gaun ghar mai ramailo
………. …………. ……………