Dashain Song Aauhai Babu Dashainma Ghara by Chanda Aryal and Dharbendra Shahi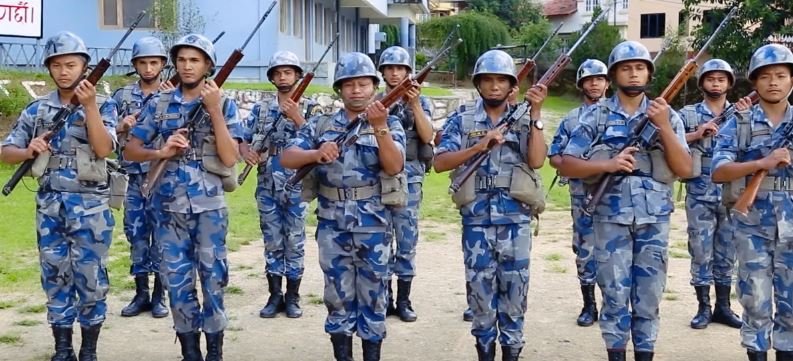 Aauhai Babu Dashainma Ghara  is a new Nepali Dashain song by Chanda Aryal and Dharbendra Shahi. In this music video artists Rama Thapaliya, Naresh MC, Sushila Lama, Gopal Pariyar and Rita Pariyar performed together. The song is released on occasion of the biggest festival of Nepal namely 'Dashain' which is directed by Shankar BC and edited by Nabin Gharti Magar.
The lyrics for the song was written by Baburam Bohora and the music for this song was composed by Rishi Khadka. This music video shows the life of Nepal Police, they forget their happiness for the sake of peoples in our country. In this music video there is a emotional conversation between mother and son. The music video is based on the Nepal's biggest festival 'Bada Dashain'. Dahain is one of the most auspicious festival in Nepal, especially among the Hinduism followers. It is probably the longest festival in Nepal that lasts for fifteen days and is celebrated not only throughout the country but also in some other countries where Hindus have been living. Most people who go abroad, also reunite in Nepal to celebrate Dashain together. Aauhai Babu Dashainma Ghara  music video was presented by Trisana Music Pvt.Ltd. Once you listen to this song, I am sure you will keep tuning it.
Aauhai Babu Dashainma Ghara  is released officially online by Music Nepal via Youtube. Hope that you will enjoy this romantic and melodious Dashain song:
Here is the lyrics for  the song Aauhai Babu Dashainma Ghara :
Khako chhau hai sarkar ko
Nuna pani sani
Khako chhau hai sarkar ko
Nuna pani sani
Tihar samma chhutti chha ki
Dashai mani jane
Tihar samma chhutti chha ki
Dashai mani jane……….
Au hai babu dashain ma ghara
Vandisake buba lae auchha re
Jasari ni auchha re chhoro
Yeo sal usle chhuti pauchha re
Au hai babu dashain ma ghara
Vandisake buba lae auchha re
Jasari ni auchha re chhoro
Yeo sal usle chhuti pauchha
Ha ha Yeo sal usle chhuti pauchha re
Yespali ta chhuti pauchhu
Jamara ni chharnu
Yespali ta chhuti pauchhu
Jamara ni chharnu
Didi lae ni vai tika ma
Khabar gardai garnu
Didi lae ni vai tika ma
Khabar gardai garnu……..
Auchhu ama dashai ma ghara
Vandinu hai buba lae auchha re
Jasari ni auchha re chhoro
Yeo sal usle chhuti ni pauchha re
Auchhu ama dashai ma ghara
Vandinu hai buba lae auchha re
Jasari ni auchha re chhoro
Yeo sal usle chhuti ni pauchha
Ha ha Yeo sal usle chhuti ni pauchha re
……….. ………………. ……………….
Ma budhi ra budho ba ko
Asirbada lina
Ma budhi ra budho ba ko
Asirbada lina
Aye hunchha khalli hatai
Pardai na kei dina
Aye hunchha khalli hatai
Pardai na kei dina
u hai babu dashain ma ghara
Vandisake buba lae auchha re
Jasari ni auchha re chhoro
Yeo sal usle chhuti pauchha re
Au hai babu dashain ma ghara
Vandisake buba lae auchha re
Jasari ni auchha re chhoro
Yeo sal usle chhuti pauchha
Ha ha Yeo sal usle chhuti pauchha re
……………. ………… …………