Dashain Song Farsi Katam Kham by Khem Bhandari and Bimala Bista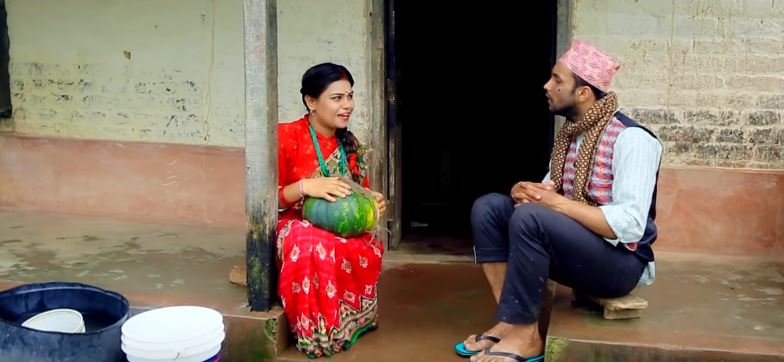 Farsi Katam Kham is a new Nepali Dashian song by Khem Bhandari and Bimala Bista. The music video features Sunita Gautam Muiya and Sandesh Lamichhane. The song is released on occasion of the biggest festival of Nepal 'Dashain' which is directed by Kapil Lama and edited by Nabin Gharti Magar.
The lyrics for the song was written by Sahadev Khadka and the music for this song was composed by Khem Bhandari. The music video features talented Nepali artists Sunita Gautam Muiya and Sandesh Lamichhane. They both are famous comedians and loved by many peoples. They have played lots of comedy serials. The music video is based on the Nepal's biggest festival 'Bada Dashain'. Hindus observe many festivals among them the greatest festival is Dashain. It is usually observed on the month of September. It is observed for ten days. So this festival is known as Dashain. All the classes of people whether they are rich or poor celebrate this festival with a great joy. The houses are cleaned and decorated. People wear new clothes and eat delicious food. The children play swings and adults play cards. This festival can be misery to the poor people. They spend the money carelessly beyond their capacity. They have to lose their land to pay the debt. But this is bad. This should be discouraged. We should not spend more than we can afford. Farsi Katam Kham music video was presented by Kamana Digital Pvt.Ltd. Once you listen to this song, I am sure you will keep tuning it.
Farsi Katam Kham is released officially online by Music Nepal via Youtube. Hope that you will enjoy this romantic and melodious Dashain song:
Here is the lyrics for the song Farsi Katam Kham:
A hoe khasi khojna gaye ma gau ko gau
Mol sunera dhalechhu thau ko thau
Chhora chhori vanchhan
Chi chi papa mamm
Aruko gharma ta khasi katlan budhi
Hamro ghar ma kei chhain
Farsi katam kham
Hide ma gau ko gau
Mol sunera dhalechhu thau ko thau
Chhora chhori vanchhan
Chi chi papa mamm
Aruko gharma ta khasi katlan budhi
Hamro ghar ma kei chhain
Farsi katam kham
Oe budhi …
Hamro ghar ma kei chhain
Farsi katam kham
A hoe dada mathi ping khelna jane ho
Afno ghar ma j chha tei khane ho
Chhora chhori vanchhan
Chi chi papa mamm
Aruko gharma ta khasi katlan budha
Hamro ghar ma kei chhain
Farsi katam kham
Ping khelna jane ho
Afno ghar ma j chha tei khane ho
Chhora chhori vanchhan
Chi chi papa mamm
Aruko gharma ta khasi katlan budha
Hamro ghar ma kei chhain
Farsi katam kham
Oe budho……
Hamro ghar ma kei chhain
Farsi katam kham
………….. ………….. …………………
A hoe khamla budhi rukho ra sukho
Dekha sikhi nagaram aruko
Chhora chhori vanchhan
Chi chi papa mamm
Aruko gharma ta khasi katlan budhi
Hamro ghar ma kei chhain
Farsi katam kham
Rukho ra sukho
Dekha sikhi nagaram aruko
Chhora chhori vanchhan
Chi chi papa mamm
Aruko gharma ta khasi katlan budhi
Hamro ghar ma kei chhain
Farsi katam kham
Oe budhi……
Hamro ghar ma kei chhain
Farsi katam kham
A hoe masu sato ae farsi khaenchha
Narog lagchha nadukha paenchha
Chhora chhori vanchhan
Chi chi papa mamm
Aruko gharma ta khasi katlan budha
Hamro ghar ma kei chhain
Farsi katam kham
Ae farsi khaenchha
Narog lagchha nadukha paenchha
Chhora chhori vanchhan
Chi chi papa mamm
Aruko gharma ta khasi katlan budha
Hamro ghar ma kei chhain
Farsi katam kham
Oe budha……
Hamro ghar ma kei chhain
Farsi katam kham
…………. ……………. ……………