Dashain Song Rudai Rudai Aamale by Krishna Pariyar and Bimal Pariyar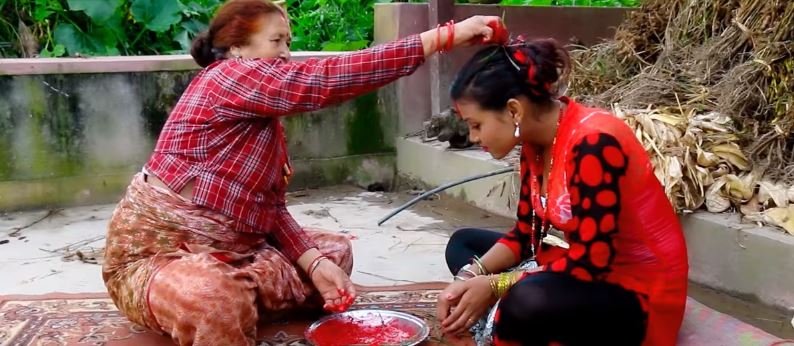 Rudai Rudai Aamale is a new Nepali Dashain song by Krishna Pariyar and Bimal Pariyar. This music video features Tika Jaisi and Buddhabir. The song is released to wish all Nepali Hindu People in the biggest festivals of Nepal 'Dashain and Tihar' which is directed by Bikram Chauhan and edited by Nabin Gharti Magar. Mukesh Humagain is the cameraman for this song.
The lyrics for the song was written by Ramesh Babu and the music for this song was composed by Krishna BC. Dashai Aayo music video is sentimental Dashain song which represents the feeling of man who is unable to join his family in the happy moment. Tika Jaisi is one of the beautiful and hot well known model of music industry. The music video is based on the Nepal's biggest festival 'Bada Dashain and Tihar '. Dashain and Tihar are the national festival of Nepal. Dashain symbolizes the victory of gods over demons and victory of good over the evil. All the classes of people whether they are rich or poor celebrate this festival with a great joy. The houses are cleaned and decorated. People wear new clothes and eat delicious food. The children play swings and adults play cards. This festival can be misery to the poor people. We should not spend more than we can afford. Rudai Rudai Aamale music video was presented by Basanta Films Pvt.Ltd. Once you listen to this song, I am sure you will keep tuning it.
Rudai Rudai Aamale is released officially online by Music Nepal via Youtube. Hope that you will enjoy this romantic and melodious Dashain-Tihar song:
Here is the lyrics for the song Rudai Rudai Aamale:
Chad parba ma sadhai man dharkine
Kaile hola tmi ghar farkine
Ayo dashian tihar sab khusi chhan
Aspali ni ayenau piyara
Rudai rudai ama le
Dashain ko tika muchhichhin
Sadhai man dharkine
Kaile hola tmi ghar farkine
Ayo dashian tihar sab khusi chhan
Aspali ni ayenau piyara
Rudai rudai ama le
Dashain ko tika muchhichhin
Aspali ni ayenau piyara
Rudai rudai ama le
Dashain ko tika muchhichhin
Sathi vaiko nidhar ma tika chha
Malae vane chad parba fikka chha
Ayo dashain tihar sab khusi chhan
Aspali ni aena ma piyari
Rudai rudai amale dahsain ko
Tika muchhichhan
Nidhar ma tika chha
Malae vane chad parba fikka chha
Ayo dashain tihar sab khusi chhan
Aspali ni aena ma piyari
Rudai rudai amale dahsain ko
Tika muchhichhan
Aspali ni aena ma piyari
Rudai rudai amale dahsain ko
Tika muchhichhan
…………. …………… ………………
Auchhu chhitai vani man jalaune
K gari ho ghar kharchha chalaune
Ayo dashain tihar sab khusi chhan
Aspali ni ayenau piyara
Rudai rudai ama le
Dashain ko tika muchhichhin
Vani man jalaune
K gari ho ghar kharchha chalaune
Ayo dashain tihar sab khusi chhan
Aspali ni ayenau piyara
Rudai rudai ama le
Dashain ko tika muchhichhin
Aspali ni ayenau piyara
Rudai rudai ama le
Dashain ko tika muchhichhin
…………… …………… ………………