Dautari Dohori by Jagat Gaudel and Kamala Gaire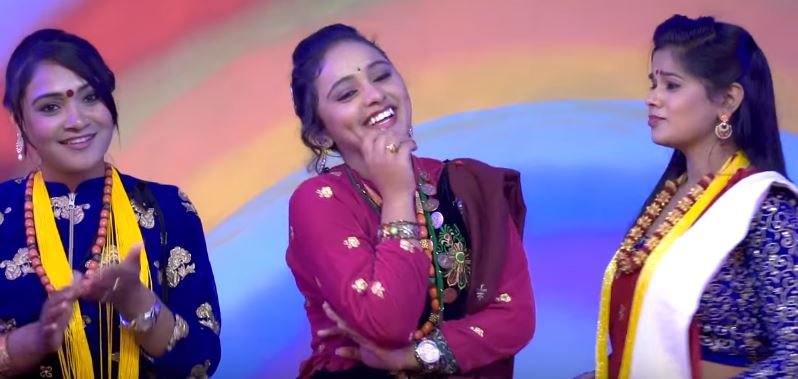 Dautari Dohori is a New Nepali Melodious lok dohori song by Jagat Gaudel and Kamala Gaire. The music video features Karishma Dhakal. This music video is a Nepali lok dohori song which is held mostly in "Dohori Sajha" in Nepali restaurants.  This music video is directed by Babbu Thapa. Dautari Dohori music video was edited by Prabin Bhatta.
The lyrics for the song was written by Jagat Gaudel and the music for this song was composed by Dhurba Gaudel. Dautari Dohori was cinematographed by Dibya Subedi. The music video features hot, sexy and very well known model Karishma Dhakal. She is gorgeous and very popular in music industry. She has done numerous music videos and earned lots of love and fans in Nepal. Karishma has performed in this music video with other artists Ishwor and Manoj. They all do their best to make this music video awesome. This music video was presented by Aashish Music Pvt. Ltd. If you listen to this song, I am sure you will enjoy the music and words that writer has chosen.
The music video is released officially online by Music Nepal via Youtube. Hope that you will enjoy this Melodious lok dohori Song Dautari Dohori.
Here is the lyrics for the song Dautari Dohori:
Haa hoe Diuso tmlae fursad hunna
Sajha ma malae ranko
Sajha ma malae ranko
Diuso tmlae fursad hunna
Sajha ma malae ranko
Dautarima au hai sanu
Ghunna madal ghanko
Tmrai maya sajaki chhu
Man mutuko majhma
Dherai vayo naveteko
Din ma tmle navyaune
Sajha paresi auu hai maya
Dautari dohori sajha ma
Dherai vayo naveteko
Din ma tmle navyaune
Sajha paresi auu hai maya
Dautari dohori sajha ma
Ho ho Dohori sajha ma
Ha ha hoe dinai vari kamai vano
Mayako man runchha
Mayako man runchha
Dinai vari kamai vano
Mayako man runchha
Samjhe pachhi june bela ni
Vetam vetam hunchha
Tmrai maya sajako chhu
Man mutuko majhma
Dherai vayo naveteko
Din ma maile navyaune
Sajha paresi auchhu maya
Dautari dohori sajha ma
Dherai vayo naveteko
Din ma maile navyaune
Sajha paresi auchhu maya
Dautari dohori sajha ma
Ho ho Dohori sajha ma
……………… ……………….. …………………
Haaa Pokhara jhai purano ho
Yo dautari hamro
Yo dautari hamro
Pokhara jhai purano ho
Yo dautari hamro
Sanu tmi ayepachhi
Malae tessai ramro
Tmrai maya sajaki chhu
Man mutuko majhma
Dherai vayo naveteko
Din ma tmle navyaune
Sajha paresi auu hai maya
Dautari dohori sajha ma
Dherai vayo naveteko
Din ma tmle navyaune
Sajha paresi auu hai maya
Dautari dohori sajha ma
Ho ho Dohori sajha ma
Haa hoe Aja pakkai vettna janchhu
Parkhae ma chhin uni
Parkhae ma chhin uni
Aja pakkai vettna janchhu
Parkhae ma chhin uni
Akhir din jureo aja
Dohori mai vet hune
Tmrai maya sajako chhu
Man mutuko majhma
Dherai vayo naveteko
Din ma maile navyaune
Sajha paresi auchhu maya
Dautari dohori sajha ma
Dherai vayo naveteko
Din ma maile navyaune
Sajha paresi auchhu maya
Dautari dohori sajha ma
Ho ho Dohori sajha ma
……………… ……………….. …………………