Ek Muskaan Ankit Ft. GXSOUL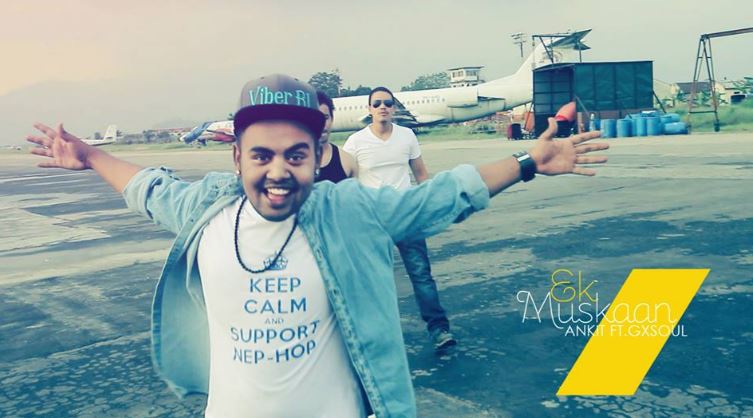 "Ek Muskan" is a Hip Hop song by Ankit Ft. GXSOUL.  The lyrics of this song is written by Ankit Dhakal.
GXSOUL is a Nepalese hip hop group founded in 2006, with GXSOUL being an abbreviation for Gorkhali Extreme Soul.GXSOUL founder members are Bibas Giri & Nima Pun, also known as viber BI / Bibaz Jung Giri and Nimasang Respectively.GXSOUL's most successful songs include "Raat Vari", "Satayera", "Mitho Sapana" and "Yo Timlay Garda Ho" acclaiming as one of the most viewed Nepali Hiphop videos in YouTube. Later in 2014 their Next collaboration with COD (Crews On Destiny) 'Maridinchu' & Ankit Dhakal 'Ek Muskaan' topped local chart and went popular among their national and international fan base. GXSOUL have performed various stage shows in Nepal, India, Hong Kong, Australia & United Kingdom.
This music video is released officially online by GXSOUL via Youtube. Enjoy this beautiful song by Ankit Ft. GXSOUL.
The lyrics of this song is:
Timro ek muskaan kafi chha
Malai ghaayal banauna
Timro ishara kafi chha
Malai pagal banauna
Raat ko tah k kura
Tyo pani surrmaya
Junn pani timro samu aauna lajayo
Raat ko tah k kura
Tyo pani surrmaya
Junn pani timro samu aauna lajayo

Suni deu na mann ka kura
Pokhdaichhu timrai samu
Muskaan ma timi hunchhau
Timi mai jiwan hunchha
Bistarai preet fulchha
Afthyaro sahaz hunchha
Vandai chhu satya kura
Coz i believe yo my destiny
I can show you the best howz the life oh plz try ta be next to me
Aay look in through eyes there ain't night mama
just wanna hold you tight
I don't wanna spend the night
Coz your my princess for the rest of my life aah
How can I proove it girl
Show me the best way
Don't let me go mama
I might loose my brain
Keepin happy
That's my aim

Jhaskera biujhanchhu
Eklai muskurauchhu
Geet lekhchhu timilai samjhera gungunauchhu
Aakha agadi chhaina tara timilai ma dekhirahanchhu
Kasari bolna jau timi sanga vani sochirahanchhu
Dhaleko saajh ma juuna ra tara ma
Mero sukha ma timi mero dukha ma
Aakha ko naani ma mutu ko dhadkan ma
Mero ghaam ma timi mero chaya ma

Mana yo maandaina mero naheri basna kina
Jaanera bujhera pani chahancha fasna kina
Timro tyo muskaan aba vai sakyo aadhar mero
Agaadi badhna khusiyaali saath jiwan jiuna
Herera pugdaina bolera matra pani hudaina
Tha chaina k khojcha yo mann mero masanga
Musukka haasera tuna muna k laudachau
Timilai nasamjhi dinn raat mero bittdaina
Garchu samjhautaa kaile kaahi aafusanga
Vanera timilai ki ma timro yogya chuina
Baadal paariko apsara jhai chau timi
Dhartiko bojh saraha po paray ma
Baby when I see you smilin
I feel like I've been livin in the paradise
Rakhisake maile timilai
Mero man bhitra ko gharma
Yo jiwan mero timro bhara maa aru koi chaina
Ma biujhi sake nindraa bata
Tara kina hosh maa chhuina
Mriga trishna nata kalpana yo
Kunai sapana haina

Timro ek muskaan kafi chha
Malai ghaayal banauna
Timro ishara kafi chha
Malai pagal banauna

You make me smile
You make me mad
Without you I go sad sad
You have my heart
You have it all
I'm standing here but you make me fall
You're the one i need you're the one for me
Forever with you i wanna be
You're so close to me yet so far
Shinin' all over me like the star