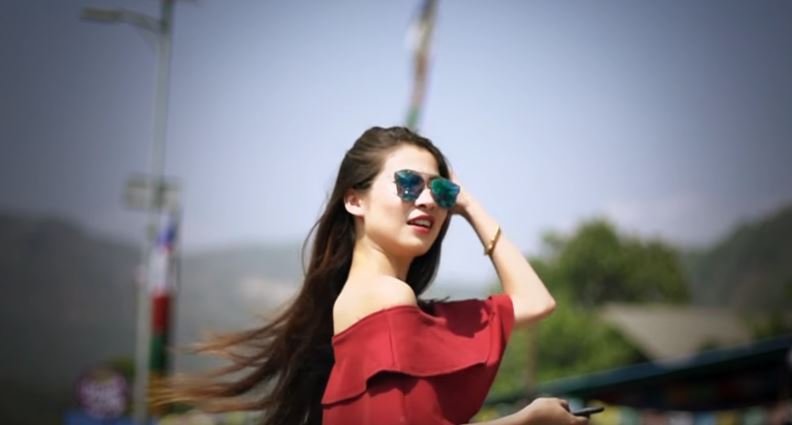 Euta Kti is a new aadhunik melodious Nepali romantic pop and rap song by Rupesh Baskota and Amit Rai. The music video features by Niki Khadgi and Manas Thapa. Euta Kti is a Nepali song by Rupesh Baskota and Amit Rai which is directed by Gry Maita. Euta Kti music video was edited as well as cinematographed by Niyon Lama and Chassang Tmg.
The music video of this song was arranged by BH Production and lyrics of this song is written by Rupesh Baskota and 3RD EYE. The music video is featuring by versatile model Niki Khadgi. Niki Khadgi is one of the hot and sexy model which we can see in this music video. As we all know that  A manget can attract the other substance by its magnetic force. Similarly, from this music video we can conclude that the beauty of the girls can attract all the boys of this world. Here, all the boys of the village are following the Niki Khadgi due to her hot and sexy figure. When you once listen this song, I am sure you will keep repeating it.
The music video is released officially online by HighlightsNepal via Youtube. Hope that you will enjoy this melodious pop and rap romantic song Euta Kti.

Here is the lyrics for the song:
Euta kti ayeki che mero thauma
Block hill shoes
Usko rato ground ma
Reban ko chasma
Let neck ko gajal
Bela bela milaucha
Udheko kapal

Euta kti ayeki che mero thauma
Block hill shoes
Usko rato ground ma
Reban ko chasma
Let neck ko gajal
Bela bela milaucha
Udheko kapal
Herana mero mann ta
Ghayal bhayo
Herana mero mann ta
Udhi gayo
Herana mero mann ta
Ghayal bhayo
Herana mero mann ta
Udhi gayo….

(Rap Rap Rap)

Huncha usko morning
Music ko loud ma
Jiudal silm
Greyjhi dance ma
Chal usko catlog
Herdai ki ta looks
Chulbul bho mann
Rijhauna chaeyo
Herana mero mann ta
Ghayal bhayo
Herana mero mann ta
Udhi gayo
Herana mero mann ta
Ghayal bhayo
Herana mero mann ta
Udhi gayo….

(Rap Rap Rap)

Euta kti ayeki che mero thauma
Block hill shoes
Usko rato ground ma
Reban ko chasma
Let neck ko gajal
Bela bela milaucha
Udheko kapal
Herana mero mann ta
Ghayal bhayo
Herana mero mann ta
Udhi gayo
Herana mero mann ta
Ghayal bhayo
Herana mero mann ta
Udhi gayo
Herana mero mann ta
Ghayal bhayo
Herana mero mann ta
Udhi gayo……………