Gajalu Aankha by Prashna Panday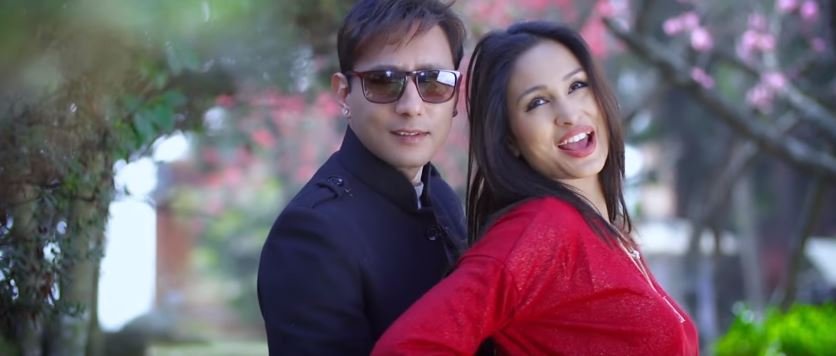 Gajalu Aankha is a new romantic dancing song by Prashana Panday. The music video features Anu Shah and Vivek. Gajalu Aankha is a Nepali song which is directed by Bishal Bhandari. The music video was edited by Nishan Ghimire and was Cinematographed by Hari Humagain.
The music for this song was composed by Ram Sitaula and music video was arranged by Rajan Ishan. The music video features versatile actress Anu Shah with a new looks. Anu Shah has established herself as a successful model who has played the lead role in this video. As we know that, The most beautiful face is face with a smile. In this music video, we can see the love through the eye rather than beauty. This song able to proof that all men fall in love through eye. Gajalu Aankha is a dancing music video which was choreographed by Deepak M. Singh. When you once listen this song, I am sure you will keep repeating it.
The music video is released officially online by Vibes Digital Nepal via Youtube. Hope that you will enjoy this melodious song Gajalu Aankha.
Here is the lyrics for Gajalu Aankha:
Gajalu Aankha mera dhekhara
Bhutukai bhutikai hai bhutukai
Baruli kamara yo dhekhara
Gutukai ghutukai hai ghutukai

Gajalu Aankha mera dhekhara Bhutukai
Baruli kamara yo dhekhara Gutukai
Lobhi najar ko vid ma
Jabani ko jos ma
Lobhi najar ko vid ma
Jabani ko jos ma
Let's dance together
ooo hoo Let's dance together
Let's dance together
oo hoo Let's dance together
Let's dance together
oo hoo Let's dance together….

Kae bhanchan afsara
Sworga ki pari ma hai pari ma
Ye aakha jimkae dida
Sawarna jhari ma hai jhari ma

Kae bhanchan afsara
Sworga ki pari ma
Ye aakha jimkae dida
Sawarna jhari ma
Tarifa ko barsa le
Ma pani bhijhu
Handsome haru ko aakha bhari
Mai pari phulechu
Hai Mai pari phulechu come on
Let's dance together
ooo hoo Let's dance together
Let's dance together
oo hoo Let's dance together
Let's dance together
oo hoo Let's dance together……

Baisa ma jasari ni
Auta chae chaenacha
Hai chaenacha
Yo mauka pheri kaha po paenacha
Hai paenacha

Baisa ma jasari ni
Auta chae chaenacha
Yo mauka pheri kaha
Po paenacha
Yata hero uta hero
Kasali diu yo taan mann
Ko hola bhaya mani
Pauna baisalu yo joban
hai Pauna baisalu yo joban come on
Let's dance together
ooo hoo Let's dance together
Let's dance together
oo hoo Let's dance together
Let's dance together
oo hoo Let's dance together……………