Mayako Doli Chadhai By Yash Kumar and Pabita Pariyar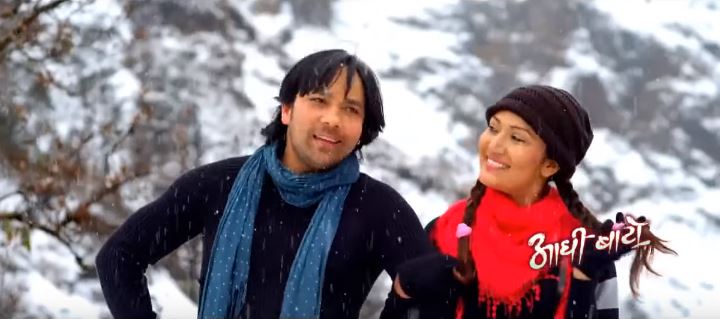 Mayako Doli Chadhai is a Romantic Nepali Movie song by Yash Kumar. The song is from movie "Adhi Baato". This music video features Yash Kumar and Jenisha KC. Mayako Doli Chadhai was directed by Sabir Shrestha. Ramesh Bantawa is a producer of this song or movie Aadhi Baato.
The lyrics and music for this song is composed by Yash Kumar. The vocal in this song is also given by Yash Kumar himself and Pabita Pariyar. He is one of the most loved and famous singer. He was born in 16th Nov, 1978 to father Ram Nepal and mother Gita Nepal at Sarlahi. He is not only a singer but also a good actor as well. In this song actor Yash and Jenish performed their best. This song is from Yash's one of the best movie Aadhi Baato. This is romantic song where we can see the romantic conversation and dance between Yash and Jenisha. I suggest you guys to listen this song. When you once listen this song, I am sure you will love it.
The music video is released officially online by Budha Subba Digital Pvt Ltd via Youtube. Hope that you will enjoy this melodious and sentimental song Mayako Doli Chadhai.
Here is the lyrics for the song:
Maya ko doli chadai timilai laijaula ni
Ho. Maya ko doli chadai timilai laijaula ni
Mayako doli chaddai timilai laijaula ni

Basaula Sano Gharma ma raja timi rani
Basaula Sano Gharma ma raja timi rani
Timro ta boli mitho jhan ramro timro bani
Timro ta boli mitho jhan ramro timro bani
Basaula Sano Gharma timi raja hu ma rani
Basaula Sano Gharma timi raja hu ma rani
Manro ko baara khara ko chaano
Manro ko baara khara ko chaano
Dukha ko pathi kaile sukha ko mano
Dukha ko pathi kaile sukha ko mano
Hola yo mann kaile aago timi vai deu hai pani
Hola yo mann kaile aago timi vai deu hai pani
Basaula sano gharma ma raja timi rani
Basaula sano gharma timi raja hu ma rani
Lala la lala la…
Timro chhati mero baasa Aangalo Vaara
Timro chhati mero baasa aangalo vaara
Mero vannu matrai timi aaru ko nai xa rw
Mero vannu matrai timi aaru ko nai xa rw
Vula garlau kaile kahi naruwaunu jani jani
Vula garlau kaile kahi naruwaunu jani jani
Basaula sano gharma timi raja hu ma rani
Basaula sano gharma timi raja hu ma rani
Maya ko doli chadai timilai laijaula ni
Basaula Sano Gharma ma raja timi rani
Basaula Sano Gharma timi raja hu ma rani