Kathmandu Sahara by Pooja Sunuwar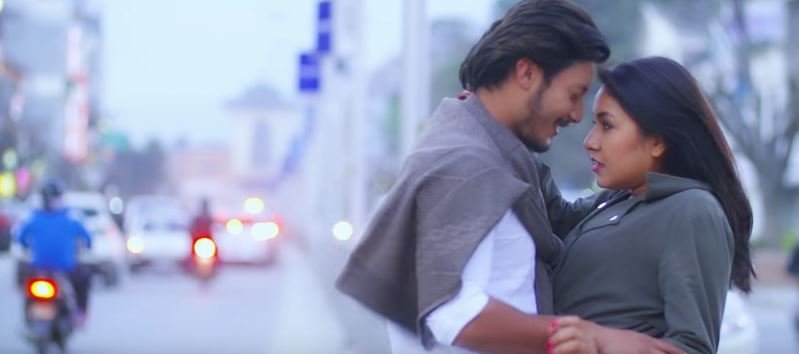 Kathmandu Sahara is a new romantic melodious Nepali pop song by Pooja Sunuwar. The music video features Nirajan and Benisha Hamal. Kathmandu Sahara is a Nepali song by Pooja Sunuwar which is directed by Arjun Adhikari. Kathmandu Sahara music video was edited by Nishan Ghimire and music video was cinematographed by Hari Humagain.
The music of this song was composed by Sunil Maskey and lyrics of this song was written by Yogendra Mani Dahal. The music video is featuring by versatile actress Benisha Hamal. She has appeared in numerous music videos, television commercials, print ads and Nepali movie. In this song, we can able to see the two rising actor and actress of Nepali music as well as filmy industry. Kathmandu Sahara is a love story song which shows the romantic love between Nirajan and Hot actress Benisha Hamal. When you once listen this song, I am sure you will keep repeating it.
The music video is released officially online by Vibes Digital Nepal via Youtube. Hope that you will enjoy this melodious romantic pop song Kathmandu Sahara.

Here is the lyrics of Kathmandu Sahara by Pooja Sunuwar:
Chamcham nachane baruli
Kamar bhachana
Yo baisa ko rahara
hoo
Chamcham nachane baruli
Kamar bhachana
Yo baisa ko rahara
Mutu bhari ko timrai ho maya
Mutu bhari ko timrai ho maya
Sarara sarara ghumauna kancha
Kathmandu Sahara Kathmandu Sahara
Sarara sarara ghumauna kancha
Kathmandu Sahara Kathmandu Sahara…

Pheri yo din aucha ki audaina
Mann bhari khusi
Chaucha ki chaudaina
Pheri yo din aucha ki audaina
Mann bhari khusi
Chaucha ki chaudaina
Chanchal bhayo mero mann
Sarara sarara ghumauna kancha
Kathmandu Sahara Kathmandu Sahara…

Mitho dhun bancha ki bandaina
Yesari nai mann
Ramcha ki ramdaina
Mitho dhun bancha ki bandaina
Yesari nai mann
Ramcha ki ramdaina
Sundar cha ori pari
Sarara sarara ghumauna kancha
Kathmandu Sahara Kathmandu Sahara

Chamcham nachane baruli
Kamar bhachana
Yo baisa ko rahara
Mutu bhari ko timrai ho maya
Mutu bhari ko timrai ho maya
Sarara sarara ghumauna kancha
Kathmandu Sahara Kathmandu Sahara
Kathmandu Sahara Kathmandu Sahara…………