Kumar Sanu to perform in Biratnagar with his Band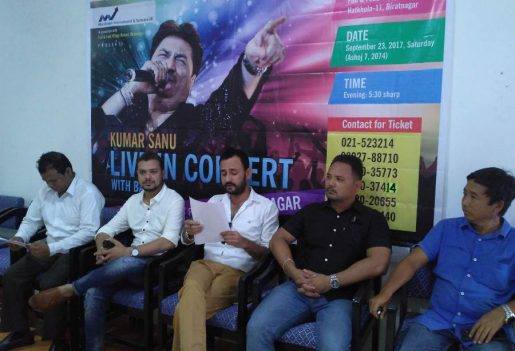 Kumar Sanu, a renowned Bollywood singer is all set to perform live in Biratnagar. Organized in collaboration with Montez International and Fun N Food Village Resort on Ashwin 07, Kumar Sanu will be performing live on "Kumar Sanu Live in Concert with Band".
A popular Bollywood singer of 90s Kedarnath Bhattacharya, after some times changed his name to Kumar Sanu. Kumar Sanu has gone through 27 years long musical journey and also has sung nearly seventeen thousand songs or more than that. Besides, he has enlisted his name in Guinness World Record by singing songs.
Kumar Sanu also is called as a most laborous singer of India. Kumar, the resident of Kolkata, India, has sung many modern songs as well as has given his voice in various Bollywood movies. Kumar Sanu is the same singer who had once sung total 28 songs in same day.
The same singer has not only sung Hindi songs, but also has sung Nepali songs. Songs like "Ma Ta Aba Risauchhu" "Phool Bhaye Jindagi", "Saachi Raakhu Jasto Lagchha" "Yo Katha Ho Trisana Mero", "Dui Thopa Aasu", "Jatisamma Jiwan", "Bharai Sapani maa Auchhu" are some popular songs sung by him.
Montez International and Fun N Food Village Resort is ready to present Kumar Sanu, a famous singer on the occasion of Nepalese's main festival Dashain. According to the organizers, Sanu will be performing with his own band.
According to Bhupal Rai, the operator of Fun N Food Village Resort, not only Kumar Sanu, but other Nepali artists will also be performing in the show. Guests will also be able to see performance Nepali female singer Devika Bandana and Comedian Jitu Nepal in the show.
According to Roshan Parajuli, managing director of Montez International and another organizer of the show, they have a targeted to sell 4,000 tickets. The ticket costs Rs.5,000 for VIP one and normal tickets will cost Rs.2,500.
Montez International had already organized "Kumar Sanu Live in Concert with Band" at Kathmandu in collaboration with Dilip Prem Prasad Neupane, Roshan Parajuli, Rajaram Giri, Deepak Ghimire, Niraj Singh, Bishwas Luitel and Sudan Chauhan.