Now Find Local Professionals Using sriyog.com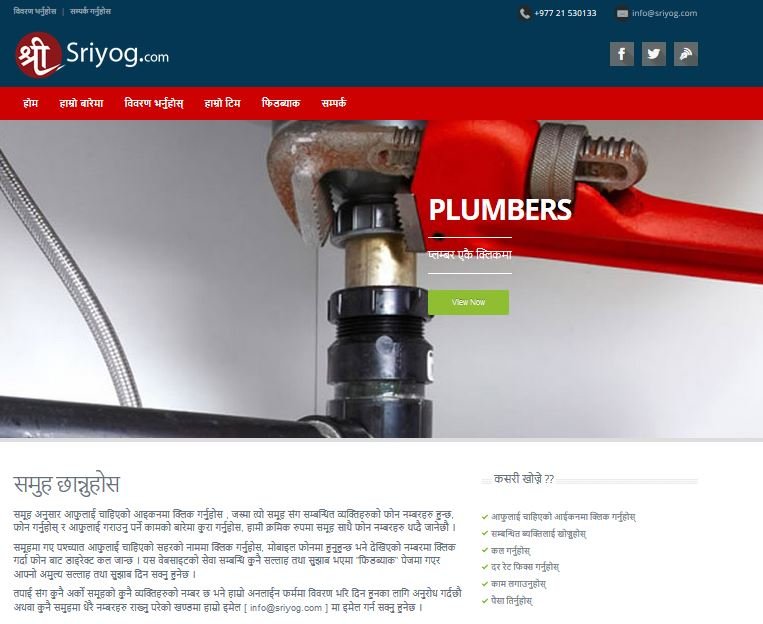 If you haven't logged in to Sriyog.com, you are really missing something that could help you out in your daily life. Let's get in to the details of Sriyog.com, how it can be beneficial for you and how was it developed.
How can it be beneficial?
Founded on 2016 by Prakash Upreti (CEO of Pracas Infosys), Sriyog is website that contains details of different people who are skilled in a particular field. It's like directory listing or let's say it's a site that contains details of every business owner who run either big or small business. Sriyog, actually, contains the details of every profession like drivers, chefs, beauticians, lawyers, photographers including over 70 categories either from Biratnagar or outside the city. Each category contains the details of people who provide different types of services. This site is useful as it has provided a platform to local service providers who are not being able to expose their business to the public.
Apart from the service providers, this site is also useful for the service seekers who are seeking for daily needs. And also is useful for those who are looking for other extra other services like photography, insurance agent, car mechanics and so on.
How was it developed?
When Prakash, the developer of Sriyog, personally had to wait in search of the plumber for more than a day, he planned to develop this site. Before that, he determined to look for another plumber, but could not find any other platforms where he could get the contact details of the plumber. Consequently, in order to solve this problem, he himself developed a site where the experts could announce their respective work and the clients could choose the best among the available options. As Mr. Prakash had done graduation in Bachelors in Information Technology, he solved the problem of numbers of customers using his education.
And now Sriyog.com is popular among the local in Biratnagar, Itahari and some major cities in Nepal.