Lok Dohori Song Palpa Bajar Ma by Deepak Dhamala and Devi Gharti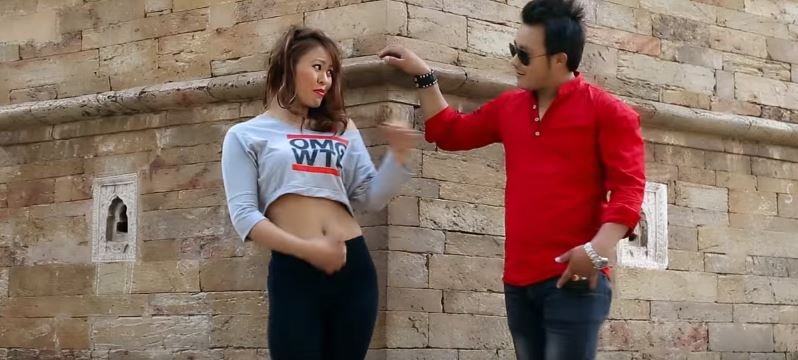 Palpa Bajar Ma is a new Nepali lok dohori song by Deepak Dhamala and Devi Gharti. The music video features Naresh and Sharishma. Palpa Bajar Ma is directed by Smriti Timilsina "Guru Aama". This music video was edited by Dipak Bista and cinematography is done by Durga Paudel.
The lyrics as well as music for the song was composed by Man Thapa. The music video features hot and gorgeous rising models of Nepali entertainment industry,Naresh and Sharishma. They have done numerous lok dohori music video and appears in shows and cultural programs. In Palpa Bajar Ma music video, the singers describes the different places of Palpa and its beauty. This songs also indirectly describes the beauty of Nepal. To make this music video awesome they all performed very well in this music video. This music video is also a package of romance and entertainment.  Palpa bajar ma is presented by Aashish Music Pvt.Ltd. When you once listen this song, I am sure you will keep tuning it.
Palpa Bajar Ma is released officially online by Music Nepal via Youtube. Hope that you will enjoy this romantic and melodious lok dohori song.
Here is the lyrics for the song Palpa Bajar Ma:
Ghumna ako palpa ko bajarma
Tmrai muhar pareo yo najarma
Judheo najar palpa bajarma
Kasto jadu deachhau vagawan
Teo ankha ko karke najarma
Palpa ko bajarma
Tmrai muhar pareo yo najarma
Judheo najar palpa bajarma
Kasto jadu deachhau vagawan
Teo ankha ko karke najarma
Kasto jadu deachhau vagawan
Teo ankha ko karke najarma
Najar judheo palpako bajarma
Mohani nai chha ki teo najar ma
Judheo najar palpa bajarma
Kasto jadu deachhau vagawan
Teo ankha ko karke najarma
Palpako bajarma
Mohani nai chha ki teo najar ma
Judheo najar palpa bajarma
Kasto jadu deachhau vagawan
Teo ankha ko karke najarma
Kasto jadu deachhau vagawan
Teo ankha ko karke najarma
………… ……………. ………………..
Kata jana hideki nani
Hat ma lidai fakreko jawani
Judheo najar palpa bajarma
Kasto jadu deachhau vagawan
Teo ankha ko karke najarma
Hideki nani
Hat ma lidai fakreko jawani
Judheo najar palpa bajarma
Kasto jadu deachhau vagawan
Teo ankha ko karke najarma
Kasto jadu deachhau vagawan
Teo ankha ko karke najarma
Deu na vanchhau jawani hatama
Tmi raichhau baisako matama
Judheo najar palpa bajarma
Kasto jadu deachhau vagawan
Teo ankha ko karke najarma
Jawani hatama
Tmi raichhau baisako matama
Judheo najar palpa bajarma
Kasto jadu deachhau vagawan
Teo ankha ko karke najarma
Kasto jadu deachhau vagawan
Teo ankha ko karke najarma
……………….. ………….. ……………….
Jauna hida shrenagar ghumna
Sangai basi maya ko jal bunna
Judheo najar palpa bajarma
Kasto jadu deachhau vagawan
Teo ankha ko karke najarma
Shrenagar ghumna
Sangai basi maya ko jal bunna
Judheo najar palpa bajarma
Kasto jadu deachhau vagawan
Teo ankha ko karke najarma
Kasto jadu deachhau vagawan
Teo ankha ko karke najarma
Ghumna man ta theo ni Shreenagar
Tara tmro lachhaina katti var
Judheo najar palpa bajarma
Kasto jadu deachhau vagawan
Teo ankha ko karke najarma
Theo ni Shreenagar
Tara tmro lachhaina katti var
Judheo najar palpa bajarma
Kasto jadu deachhau vagawan
Teo ankha ko karke najarma
Kasto jadu deachhau vagawan
Teo ankha ko karke najarma
…………….. ……………. ……………