Mero Jeevan by Ramesh Bhatta, Devi Ghati and Babita Bote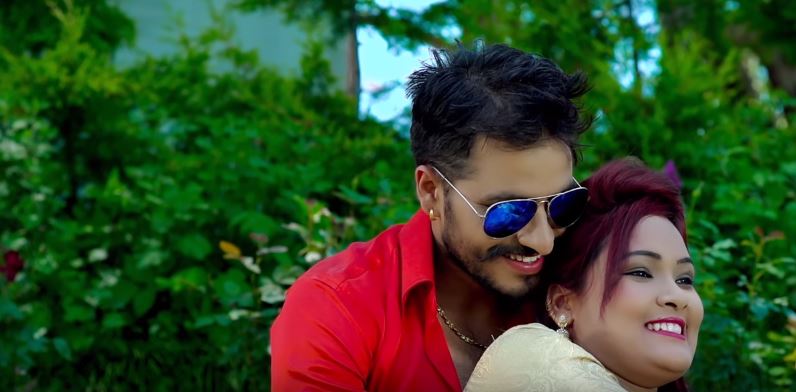 Mero Jeevan is a well tuned folk song by Ramesh Bhatta. The music video features Bimal Adhikari and Babita Bote. Mero jeevan is a Nepali song by Ramesh Bhatta which is directed by Kapil Lama. Mero Jeevan music video was edited by Amar Shakya and music video was cinematographed by Rajesh Ghimire.
The music of this song is composed by Suresh Adhikari and lyrics of this song was written by Ramesh Bhatta. Ramesh Bhatta, Devi Ghati and Babita Bote have given their pleasing voice for many other folk songs. Mero Jeevan is a sentimental song. In this music video, you will get to see the pain which is causes by love. Mero Jeevan is emotional sad song that reveals the pain of betray. This music video was post production by Bhavana Music Solution. If you are sentimental folk song lover and once you listen this song, you will keep mouthing it.
The music video is released officially online by Music Nepal via Youtube. Hope that you will enjoy this melodic Lok dohori song Mero Jeevan.
Here is the lyrics for the song Mero Jeevan :
Harsa bivar va haula teta
Mare tulle vaki chhu ma ata
Mero jiban tahas nahas parera gaeu
Akul byakul vaki chhu
Pal pal tmro biyog ma
Kopila mai maya ko ful jharera gaeuu
Va haula teta
Mare tulle vaki chhu ma ata
Mero jiban tahas nahas parera gaeu
Akul byakul vaki chhu
Pal pal tmro biyog ma
Kopila mai maya ko ful jharera gaeuu
Akul byakul vaki xu
Pal pal tmro biyog ma
Kopila mai maya ko ful jharera gaeuu

Tmrai yad ma dhaldai xa parani
Mero jiban vayeni kharani
Mero jiban tahas nahas parera gaeu
Akul byakul vako xu
Pal pal tmro biyog ma
Kopila mai maya ko ful jharera gaeu
Dhaldai xa parani
Mero jiban vayeni kharani
Mero jiban tahas nahas parera gaeu
Akul byakul vako xu
Pal pal tmro biyog ma
Kopila mai maya ko ful jharera gaeu
Akul byakul vako xu
Pal pal tmro biyog ma
Kopila mai maya ko ful jharera gaeu
………… ………… ……… ………
Gari sapana atra ra tarta
Vayeu farar parera alpatra
Mero jiban tahas nahas parera gaeu
Akul byakul vaki xu
Pal pal tmro biyog ma
Kopila mai maya ko ful jharera gaeu
Atra ra tarta
Vayeu farar parera alpatra
Mero jiban tahas nahas parera gaeu
Akul byakul vaki xu
Pal pal tmro biyog ma
Kopila mai maya ko ful jharera gaeu
Akul byakul vaki xu
Pal pal tmro biyog ma
Kopila mai maya ko ful jharera gaeu

… … … …