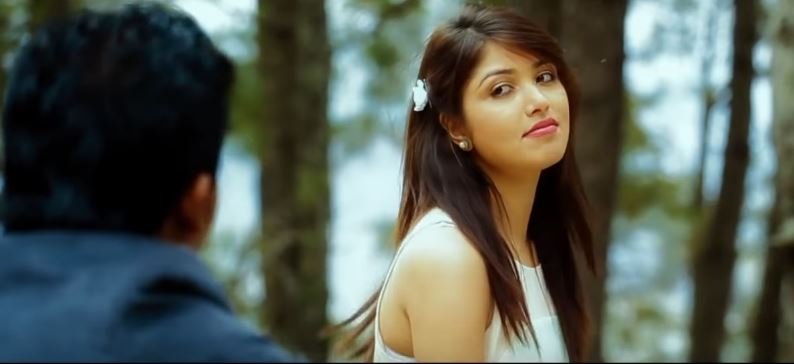 Muskaan is a new romantic melodious Nepali song from album "Mero Aakash". The music video features Poonam Gautam and Puza Sharma. Muskaan is a Nepali song by Hemant Rana which is directed by Sudarshan Thapa. Muskaan music video was edited by Mokshya and music video was cinematographed by Sushan Prajapati.
The music of this song was composed by Kalyan Singh and lyrics of this song was written by Kalyan Singh himself. The music video is featuring by versatile actress Puza Sharma. She has appeared in numerous music videos, television commercials, print ads and Nepali movie. Muskaan music video provided the information that smile is great things in the world. A smile can change the war into love. This song is specially dedicated to all the love birds out there. When you once listen this song, I am sure you will keep repeating it.
The music video is released officially online by CG Entertainment via Youtube. Hope that you will enjoy this melodious romantic song Muskaan.

Here is the lyrics for Muskaan:
Timro ek mitho muskan ma
Ma sansar bhulna garchu
Timro ek mitho muskan ma
Ma dhukha pida bhulna garchu
K cha k cha timro
Tyo muskan ma
K cha k cha timro
Tyo muskan ma
Afulai bhulera ma
Timi tira nai harauna garchu
Harauna garchu….

Chaedaina din ghamaelo
Chaedaina raat juneli
Chaedaina aakash ma tara
Chaedaina phul chameli
Kabel timro satha
Bhaye malae pugacha
Niyano angalo ma
Badhi diye pugacha
Timi chau ra ta mero
Astitiyo chha
Timro ek mitho muskan ma
Mero khusi lukeko cha
Timro ek mitho muskan ma
Ma naya jiwan pauchu
Timro ek mitho muskan ma
Naya jiuna aadhar pauchu….

Timro ek mitho muskan
Ko lagi ma
Ma je pani garna tayar chhu
Aakash ko tara tipi
Dina na sake pani
Timro harak paela ma sahar
Bhanne chhu

Timro ek mitho muskan ma
Sangit ko dhuna bharchu
Timro ek mitho muskan ma
Jiwan ko artha pauchu
K cha k cha timro
Tyo muskan ma
K cha k cha timro
Tyo muskan ma
Afulai bhulera ma
Timi tira nai harauna garchu
Harauna garchu……………