Nepali Festival Song Lahureko Dashain By Bhupu Pandey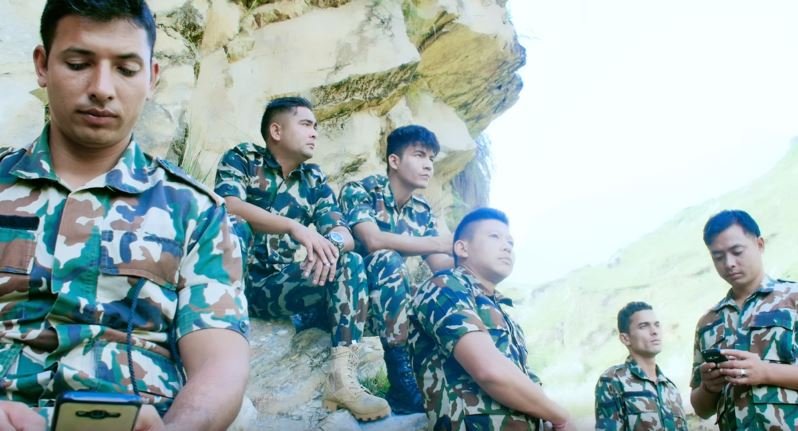 Lahureko Dashain is a new Nepali Dashain song by Bhupu Pandey. The song is released on occasion of the biggest festivals of Nepal namely 'Dashain and Tihar' which is directed by Amrit Sunuwar and edited by Madhab Belbase. The music video was cinematographed by Amrit Sunuwar.
The lyrics for the song was written by Kamal Shahi and the music for this song was composed by Bhupu Pandey. This music video shows the life of Lahure, they forget their happiness for the sake of peoples in our country. In this music video there is a emotional conversation between wife and husband. The music video is based on the Nepal's biggest festival 'Bada Dashain'. The music video is based on the Nepal's biggest festival 'Bada Dashain and Tihar '. Dashain and Tihar are the national festival of Nepal. Dashain symbolizes the victory of gods over demons and victory of good over the evil. Goddess Durga is considered as the goddess of power and justice. It has its unique ways of celebration. Lahureko Dashain music video was presented by Bhupu Pandey. Once you listen to this song, I am sure you will keep tuning it.
Lahureko Dashain is released officially online by Bhupu Pandey via Youtube. Hope that you will enjoy this romantic and melodious Dashain song:
Here is the lyrics for the song Lahureko Dashain:
Vo ama bato nakura
Thakne chhan tmra ankha haru
Vo baba asai nagara
Berthai dukhne chhan
Tmra betha haru
Kati dekhau asa matrai
Arko sal ta auchhu vani
Socheko thea chada parba
Sangai basi manauchhu vani
Yeo dashain ma
Ama audaina ma
Bache arko sala aula
Kati dhateo navannu hai baba
Vagya vaye hami ramaula
Baini lae fulbutte choli
Ama lae jhumke bulaki
Baba lae ghadi lyaediula
Laure ko koseli
Lyaune chhu jhola vari
Badera gau vari
Dashain Tihar manaula
………….. …………. ………..