Nepali Jiwan by Cool Pokhrel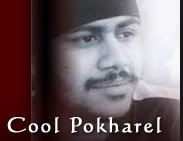 "Nepali Jiwan" is a melodious song by Late Cool Pokhrel from his album Aama. He is one of the unforgettable person in Nepali music known as Kul prasad pokhrel(Cool Pokhrel). He was a great composer of Nepali music and Nepali music always miss him.
This music video is officially released online by Bikash Gautam via Youtube. Enjoy watching this beautiful song by Late Cool Pokhrel.
Here is the lyrics for this music video:
kukhuri kaa ko aawaajsangai
Ma aafno aakhaa kholne garthe
Bihani kaam bhyaaye pachi
Bana tira jane garthe
Banabata aaye pachi
Hataar hataar school jaanthe
Yastai nai ho Nepali jiwan
Yastai nai ho gaaule jiwan…

Asara aauthyo pani parthyo
Mela paat garna jaanai parhtyo
Jhupro chuhinthyo chhaano chhaunai parhtyo
Gaaibastu hunthyo maaraa janai parthyo
Yastai nai ho Nepali jiwan
Yastai nai ho gaaule jiwan…

Mangsir aauthyo baali jhulthyo
Khetabaali bhitryai rakhnai parthyo
Chaada aauthyo luga haalnai parthyo
Samaya bithyo haat mukh jodnai parthyo
K garnu hajur purai raakhcnu parthyo
yastai nai ho nepali jiwan
yastai nai ho gaaule jiwan…