New Comedy Teej song Swai Swai Company By Niraj KC and Nita Nischan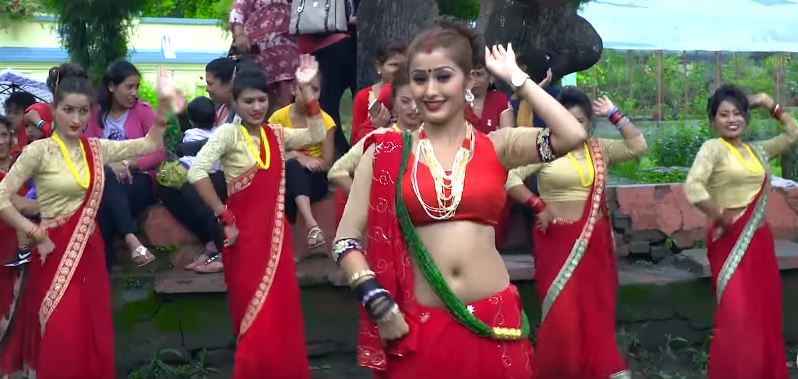 Swai Swai Company is a new Nepali teej song by Niraj KC and Nita Nischan. The music video features Anjali Adhikari and Bimal. Swai Swai Company is a comedy teej song which is directed by Smriti Timilsina Guruaama. This music video was edited by Sudan Basnet and was cinematographed by Suresh Shrestha.
The lyrics for the song was written by Narendra Raj Bista and Chhitij Dadel and Niraj KC is the music composer. Artists Anjali Adhikari and Bimal have performed together with energetic performance. This music video is for the Nepali women's biggest festival Teej. In this festival, Nepali women worship Lord Shiva without drinking a drop of water to get nice and perfect husband or for the long life of husband. Here, In this music video Anjali Adhikari appears in Red Sari which attracts every viewers eyes towards her. In this music video, the actors and singers tries to show the hard life of Nepali youth who went abroad for earning purpose. Swai Swai Company is presented by Bhavawan Music Pvt. Ltd. When you once listen this song, I am sure you will keep tuning it.  in Youtube.
The music video is released officially online by Music Nepal via Youtube and within 2 days it cross the 50K views. Hope that you will enjoy this romantic and melodious Swai Swai Company.
Here is the lyrics for the song:
Yeo sal ko teej ni
Gau ghar ma aesakeo
Yeo sal ko teej ni
Gau ghar ma aesakeo
Paisa pathau piyara
Sun ko vau badhna laesakeo
Paisa pathau piyara
Sun ko vau badhna laesakeo
Mera pyara ko
Jagir suna sangini
Mera pyara ko
Jagir suna sangini
Swai swai company
Jati majheo teti chamkini
Swai swai company
Jati majheo teti chamkini
Paisa pathau piyara
Vanchhin talab achhaina
Paisa pathau piyara
Vanchhin talab achhaina
Yeo para le kaile uvo lagchhu pyari
Malae tha chhaina
Yeo para le kaile uvo lagchhu pyari
Malae tha chhaina
Afno ta jagir astai chha piyari
Afno ta jagir astai chha piyari
Swai swai company
Jati majheo teti chamkini
Swai swai company
Jati majheo teti chamkini
……… ………… ………
Naya fashion garera
Teej ma sangi auda
Naya fashion garera
Teej ma sangi auda
Ma kasti hunchhu hola
Pohoro ko sari feri lagauda
Ma kasti hunchhu hola
Pohoro ko sari feri lagauda
Mera pyara ko
Jagir suna sangini
Mera pyara ko
Jagir suna sangini
Swai swai company
Jati majheo teti chamkini
Swai swai company
Jati majheo teti chamkini
Kati avagi raichheu meri piyari
Kati avagi raichheu meri piyari
Teej ma dina kei paina
Nabase hai teo man bigari
Teej ma dina kei paina
Nabase hai teo man bigari
Afno ta jagir astai chha piyari
Afno ta jagir astai chha piyari
Swai swai company
Jati majheo teti chamkini
Swai swai company
Jati majheo teti chamkini
……… ………… ………
Kati lagau sadhai teej ma
Sikri ani sadi
Kati lagau sadhai teej ma
Sikri ani sadi
Gala ma har lagayera
Nachhna man chha sab ko agadi
Gala ma har lagayera
Nachhna man chha sab ko agadi
Mera pyara ko
Jagir suna sangini
Mera pyara ko
Jagir suna sangini
Swai swai company
Jati majheo teti chamkini
Swai swai company
Jati majheo teti chamkini
Teej ko bela nabasa afno man bigari
Teej ko bela nabasa afno man bigari
Arko sal ko teeja ma
Sunko har diula piyari
Arko sal ko teeja ma
Sunko har diula piyari
Afno ta jagir astai chha piyari
Afno ta jagir astai chha piyari
Swai swai company
Jati majheo teti chamkini
Swai swai company
Jati majheo teti chamkini
……… ………… ………
Mero pairan dekhera
Maitiko man harata
Mero pairan dekhera
Maitiko man harata
Satya kura tha vayema
Sab ko ansu jharchhan barara
Satya kura tha vayema
Sab ko ansu jharchhan barara
Mera pyara ko
Jagir suna sangini
Mera pyara ko
Jagir suna sangini
Swai swai company
Jati majheo teti chamkini
Swai swai company
Jati majheo teti chamkini
Sabai dina man theo
Sikri sadi diye
Sabai dina man theo
Sikri sadi diye
Satya kura sunauchhu
Suna pyari chinta naliya
Satya kura sunauchhu
Suna pyari chinta naliya
Afno ta jagir astai chha piyari
Afno ta jagir astai chha piyari
Swai swai company
Jati majheo teti chamkini
Swai swai company
Jati majheo teti chamkini
Swai swai company
Jati majheo teti chamkini
Swai swai company
Jati majheo teti chamkini
Swai swai company
Jati majheo teti chamkini
Swai swai company
Jati majheo teti chamkini
Swai swai company
Jati majheo teti chamkini
Swai swai company
Jati majheo teti chamkini
Swai swai company
Jati majheo teti chamkini
Swai swai company
Jati majheo teti chamkini
……… ………… ………