New Dashain Kina Chaiyo Masu Bhatt by Devi Gharti and Gakul Pandey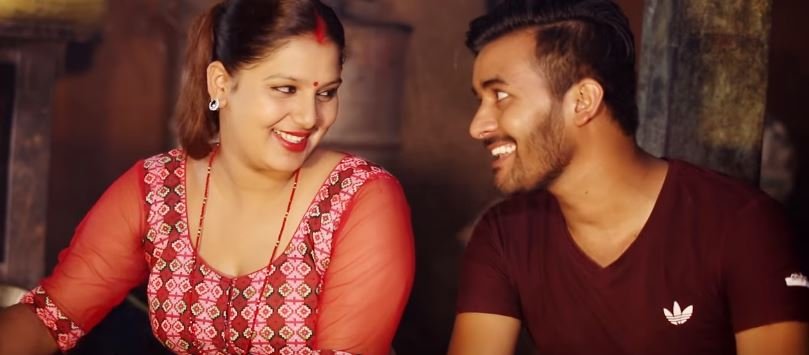 Kina Chaiyo Masu Bhatt is a new Nepali Dashain song by Pashupati Sharma and Tika Pun. The music video features Karishma. The song is released on occasion of the biggest festivals of Nepal 'Dashain and Tihar' which is directed by Mausam Himali and edited by Nabin Gharti Magar.
The lyrics for the song was written by Pashupati Sharma and the music for this song was composed by Pashupati Sharma himself.  Pashupati Sharma is one of the best actor, music composer, singer and writer. He has god gifted melodious vocal and awesome acting. The music video features talented Nepali artists Karishma. She is one of the beautiful and hot well known model of music industry. The music video is based on the Nepal's biggest festival 'Bada Dashain and Tihar '. Dashain and Tihar are the national festival of Nepal. Dashain is celebrated by Hindus all over the world. It has special significance in Hinduism and is celebrated for 15 days. Tihar is the most celebrated festival after Dashain in Nepal. It is a five-day festival celebrated in late autumn. Kina Chaiyo Masu Bhatt music video raise hands against the tradition of calling Dashain as festival of meat. This music video was presented by Gorkha Chautari Music Pvt.Ltd. Once you listen to this song, I am sure you will keep tuning it.
Kina Chaiyo Masu Bhatt is released officially online by Gorkha Chautari Music via Youtube. Hope that you will enjoy this romantic and melodious Dashain-Tihar song:
Here is the lyrics for the song Kina Chaiyo Masu Bhatt:
Chhora chhori gyani chhan rudainan
Hamra chad bad vadkila hudainan
Dal vat ra tarkari
Achhar banaenchha
Kina chaeo naya luga
Kina chaeo masu vat
J jasto chha tesaima
Dashain manaenchha
Gyani chhan rudainan
Hamra chad bad vadkila hudainan
Dal vat ra tarkari
Achhar banaenchha
Kina chaeo naya luga
Kina chaeo masu vat
J jasto chha tesaima
Dashain manaenchha
Kina chaeo naya luga
Kina chaeo masu vat
J jast chha tesaima
Dashain manaenchha
Chhutai khalko mahato teo dashainko
Dekha sikhi garinna kasaiko
Dal vat ra tarkari
Achhar banaenchha
Kina chaeo naya luga
Kina chaeo masu vat
J jasto chha tesaima
Dashain manaenchha
Kina chaeo naya luga
Kina chaeo masu vat
J jasto chha tesaima
Dashain manaenchha
…………. ………….. …………..
Tas kheldina jad raksi chunna ma
Aru jasto utaulo hunna ma
Dal vat ra tarkari
Achhar banaenchha
Kina chaeo naya luga
Kina chaeo masu vat
J jasto chha tesaima
Dashain manaenchha
Jad raksi chunna ma
Aru jasto utaulo hunna ma
Dal vat ra tarkari
Achhar banaenchha
Kina chaeo naya luga
Kina chaeo masu vat
J jasto chha tesaima
Dashain manaenchha
Kina chaeo naya luga
Kina chaeo masu vat
J jasto chha tesaima
Dashain manaenchha
………….. …………. ……………