New Dashain Song Aaile Bhet Dashainlai by Pashupati Sharma and Devika KC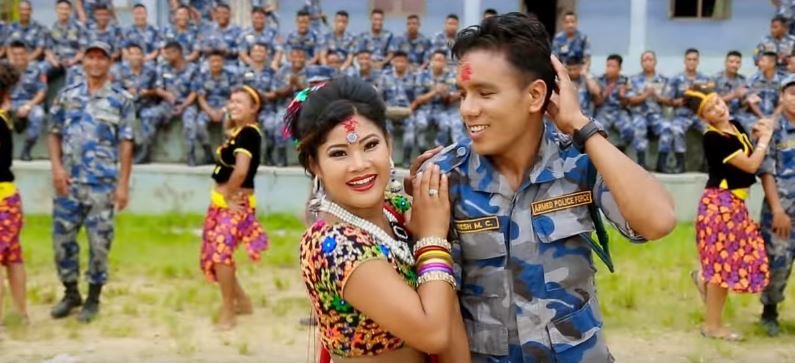 Aaile Bhet Dashainlai is a new Nepali Dashain song by Pashupati Sharma and Devika KC. The music video features Naresh and Rina. The song is released on occasion of the biggest festival of Nepal namely 'Dashain' which is directed by Mausam Himali and edited by Nabin Gharti Magar.
The lyrics for the song was written by Pashupati Sharma and himself composed the music for this song.  Pashupati Sharma is one of the best actor, music composer, singer and writer. Every times he wrote the songs he introduces a uniqueness in the song. The music video features talented Nepali artists Naresh and Rina.  The music video is based on the Nepal's biggest festival 'Bada Dashain'. Dahain is one of the most auspicious festival in Nepal, especially among the Hinduism followers. It is probably the longest festival in Nepal that lasts for fifteen days and is celebrated not only throughout the country but also in some other countries where Hindus have been living. Most people who go abroad, also reunite in Nepal to celebrate Dashain together. Aaile Bhet Dashainlai music video was presented by Trisana Music Pvt.Ltd. Once you listen to this song, I am sure you will keep tuning it.
Aaile Bhet Dashainlai is released officially online by Music Nepal via Youtube. Hope that you will enjoy this romantic and melodious Dashain song:
Here is the lyrics for the song Aaile Bhet Dashainlai:
Eh Pohorai bhetne vanthyau
Bhet bhaina ek marisa
chhaina manma harisha
Pohorai bhetne vanthyau
Bhet bhaina ek marisa
chhaina manma harisha
Pohorai bhetne vanthyau
Bhet bhaina ek marisa
chhaina manma harisha
Pohorko bheta aaile
Aaile bheta kaile ho
Tei sodheko maile ho
Pohorko bheta aaile
Aaile bheta kaile ho
Tei sodheko maile ho
Pohorko bheta aaile
Aaile bheta kaile ho
Tei sodheko maile ho
Eh Narisauna sanu
Timi kati dayalu
Testai bhayo mayalu
Narisauna sanu
Timi kati dayalu
Testai bhayo mayalu
Narisauna sanu
Timi kati dayalu
Testai bhayo mayalu
Pohorko bheta aaile
Aaile bheta dashainlai
Nabhane hai kasailai
Pohorko bheta aaile
Aaile bheta dashainlai
Nabhane hai kasailai
Pohorko bheta aaile
Aaile bheta dashainlai
Nabhane hai kasailai
………… ………….. …………..
Eh Hinyau ki jhai laauchha
Antai maya misara
k hunchha ra risara
Hinyau ki jhai laauchha
Antai maya misara
k hunchha ra risara
Hinyau ki jhai laauchha
Antai maya misara
k hunchha ra risara
Pohorko bheta aaile
Aaile bheta kaile ho
Tei sodheko maile ho
Pohorko bheta aaile
Aaile bheta kaile ho
Tei sodheko maile ho
Pohorko bheta aaile
Aaile bheta kaile ho
Tei sodheko maile ho
Eh Badhyatamai thiye
Bhayo aakhir bhule jhai
Aru sitai dule jhai
Badhyatamai thiye
Bhayo aakhir bhule jhai
Aru sitai dule jhai
Badhyatamai thiye
Bhayo aakhir bhule jhai
Aru sitai dule jhai
Pohorko bheta aaile
Aaile bheta dashainlai
Nabhane hai kasailai
Pohorko bheta aaile
Aaile bheta dashainlai
Nabhane hai kasailai
Pohorko bheta aaile
Aaile bheta dashainlai
Nabhane hai kasailai
………… ………….. …………..
Eh bhetda lokachara
Bhet nahuda birsani
Yei ta manma pir chha ni
Bhetda lokachara
Bhet nahuda birsani
Yei ta manma pir chha ni
Bhetda lokachara
Bhet nahuda birsani
Yei ta manma pir chha ni
Pohorko bheta aaile
Aaile bheta kaile ho
Tei sodheko maile ho
Pohorko bheta aaile
Aaile bheta kaile ho
Tei sodheko maile ho
Pohorko bheta aaile
Aaile bheta kaile ho
Tei sodheko maile ho
Eh Timlai pir pare ta
Yo man yeti rudaina
Aba galti hudaina
Timlai pir pare ta
Yo man yeti rudaina
Aba galti hudaina
Timlai pir pare ta
Yo man yeti rudaina
Aba galti hudaina
Pohorko bheta aaile
Aaile bheta dashainlai
Nabhane hai kasailai
Pohorko bheta aaile
Aaile bheta dashainlai
Nabhane hai kasailai
Pohorko bheta aaile
Aaile bheta dashainlai
Nabhane hai kasailai