New Dashain Song Pardeshi Ko Kahani by Suman Pariyar and Indira Gaire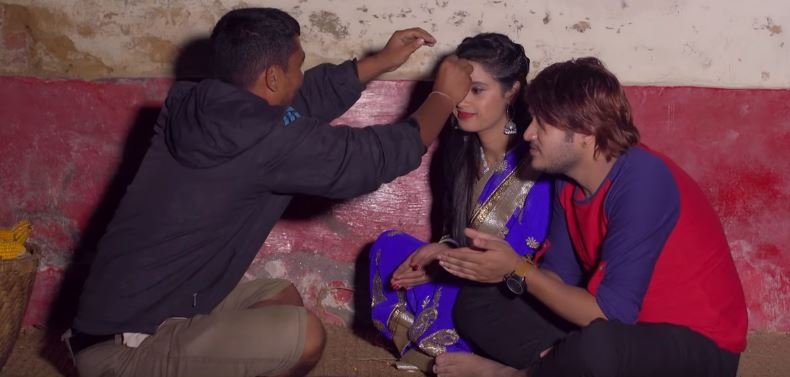 Pardeshi Ko Kahani is a new Nepali Dashain song by Suman Pariyar and Indira Gaire. In this music video Suman and Indira performed themselves. The song is released to wish all Nepali Hindu People in the biggest festivals of Nepal 'Dashain and Tihar' which is directed by Bikram Chauhan and edited by Rajesh Kumar. Prakash Khadka is the cameraman for this song.
The lyrics for the song was written by Saru Marasini and the music for this song was composed by Suman Pariyar. Pardeshi Ko Kahani music video is sentimental Dashain song which represents the feeling of man who is unable to join his family in the happy moment. Indira is one of the beautiful and hot well known model of music industry. The music video is based on the Nepal's biggest festival 'Bada Dashain and Tihar '. Dashain and Tihar are the national festival of Nepal. Dashain symbolizes the victory of gods over demons and victory of good over the evil. Goddess Durga is considered as the goddess of power and justice. It has its unique ways of celebration. Pardeshi Ko Kahani music video was presented by Saptak Digital Pvt.Ltd. Once you listen to this song, I am sure you will keep tuning it.
Pardeshi Ko Kahani is released officially online by Music Nepal via Youtube. Hope that you will enjoy this romantic and melodious Dashain-Tihar song:
Here is the lyrics for the song Pardeshi Ko Kahani:
Janchha chad bad jaile ni tadpera
Jaile ni tadpera
Tmrai avab pal pal ma khadkera
Pardesi ko kahani astai ho sanu
Dashai ayeo Tihar ayo
Ghar farkinai pachhaina
Tesatai vo sanuuuu
Jaile ni tadpera
Jaile ni tadpera
Tmrai avab pal pal ma khadkera
Pardesi ko kahani astai ho sanu
Dashai ayeo Tihar ayo
Ghar farkinai pachhaina
Tesatai vo sanuuuu
Dashai ayeo Tihar ayo
Ghar farkinai pachhaina
Tesatai vo sanuuuu
Baba ama bal bachha pani
Bal bachha pani
Tmrai bato herdai chhan din gani
Pardesi ko kahani astai ho vanchhau
Dashai ayo Tihar ayo
Tmi farki ayenau
Astai ho vanchhau
Bal bachha pani
Bal bachha pani
Tmrai bato herdai chhan din gani
Pardesi ko kahani astai ho vanchhau
Dashai ayo Tihar ayo
Tmi farki ayenau
Astai ho vanchhau
Dashai ayo Tihar ayo
Tmi farki ayenau
Astai ho vanchhau
………… …………….. ……………….
Ahai barsa ra din ko
Deusire……
Ahai tiharai ayeo
Deusire……
Ahai jhili ra mili
Deusire……
Deusire……
Ahai ramailo chhaeo
Deusire……
Ahai sathi ra vai
Deusire……
Ahai vet huna paeo
Deusire……
…………… ……………. ………………