New Lok Dohori Jal Buni Buni by Ramji Khand and Sangita Bashyal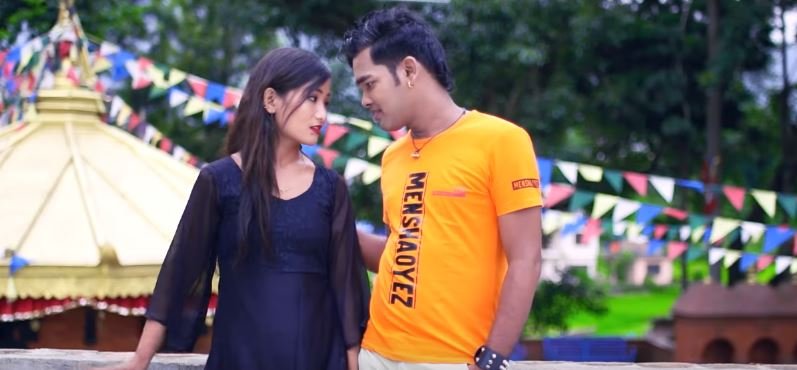 Jal Buni Buni is a New Nepali Melodious lok dohori song by Ramji Khand and Sangita Bashyal. The music video features Bikram Thapa and Chunila Rai. This music video is a lok dohori Nepali song which is directed by Bikram Chauhan. Jal Buni Buni music video was edited by Rajesh Kumar and cinematography is done by Chakra Bahadur Baral.
The lyrics for the song was written by Madhusudan Dangi and music for this song was composed by Hari Thapa. The music video features hot model Chunila Rai. She is gorgeous and well known model of music industry. She has done numerous music videos. She represent beautifully herself in this music video, Jal Buni Buni with another handsome artist Bikram Thapa. They both do their best to make this music video awesome. The singer Ramji Khand gave his best vocal in this music video and make this song more attractive. This music video was presented by Way Films Pvt. Ltd. If you listen to this song, I am sure you will enjoy the music and words that writer has chosen.
The music video is released officially online by Music Nepal via Youtube. Hope that you will enjoy this Melodious lok dohori Song Jal Buni Buni.
Here is the lyrics for the song Jal Buni Buni:
Karnali ma veri le chhal haneo
Karnali ma veri le chhal haneo
Malae ata maya le jal haneo
Jal buni buni pareo paso ma
Jal buni buni pareo paso ma
K tha malae chhal hunchha
Vanne tmro haso ma
Veri le chhal haneo
Malae ata maya le jal haneo
Jal buni buni pareo paso ma
Jal buni buni pareo paso ma
K tha malae chhal hunchha
Vanne tmro haso ma
K tha malae chhal hunchha
Vanne tmro haso ma
Joban paicho magera chanda ma
Joban paicho magera chanda ma
Mai sojhi lae pardiyeo fanda ma
Jal buni buni pareo paso ma
Jal buni buni pareo paso ma
K tha malae chhal hunchha
Vanne tmro haso ma
Magera chanda ma
Mai sojhi lae pardiyeo fanda ma
Jal buni buni pareo paso ma
Jal buni buni pareo paso ma
K tha malae chhal hunchha
Vanne tmro haso ma
K tha malae chhal hunchha
Vanne tmro haso ma
……………. ……………. ………………..
Tmro banchhu vanera asaeu
Tmro banchhu vanera asaeu
Jal ma machhi fase jhai fasaeu
Jal buni buni pareo paso ma
Jal buni buni pareo paso ma
K tha malae chhal hunchha
Vanne tmro haso ma
Vanera asaeu
Jal ma machhi fase jhai fasaeu
Jal buni buni pareo paso ma
Jal buni buni pareo paso ma
K tha malae chhal hunchha
Vanne tmro haso ma
K tha malae chhal hunchha
Vanne tmro haso ma
Ma ta hera jandina risauna
Ma ta hera jandina risauna
Chokho maya due tira misauna
Jal ma machhi fase jhai fasaeu
Jal buni buni pareo paso ma
Jal buni buni pareo paso ma
K tha malae chhal hunchha
Vanne tmro haso ma
Jandina risauna
Chokho maya due tira misauna
Jal ma machhi fase jhai fasaeu
Jal buni buni pareo paso ma
Jal buni buni pareo paso ma
K tha malae chhal hunchha
Vanne tmro haso ma
K tha malae chhal hunchha
Vanne tmro haso ma
………….. …………….. …………………