New Lok Geet Aanshu Paincho by Mina Lama Ft. Suman Pariyar and Mina Lama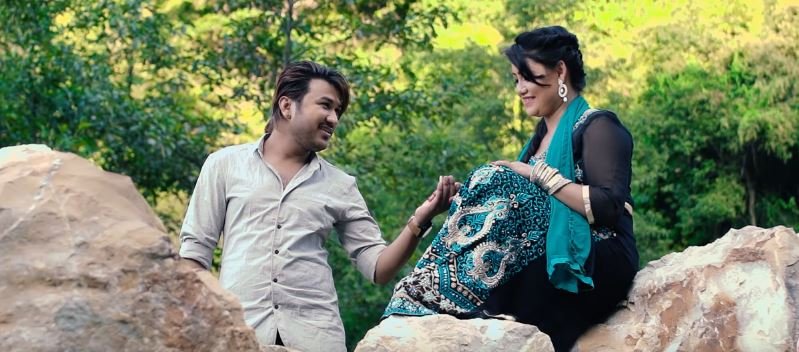 Aanshu Paincho is a new Nepali sentimental lok dohori song by BMina Lama. The music video features Suman Pariyar and Mina Lama. Aanshu Paincho is sentimental lok dohori song directed by Bikram Chauhan. This music video was edited by Milan BK and cinematographed by Prakash Khadka.
The music for this song was composed by Suman Pariyar and lyrics for this song was also written by Suman Pariyar. This song features one of the beautiful model Mina Lama. She is a gorgeous model of music industry she has given her best performance in this music video. This lok dohori song is based on the love between couples who love each other madly. But later on the Suman starts torturing Mina. She express the pain in this music video in very realistic way. This music video was presented by Sabina Music Pvt Ltd. When you once listen this song, I am sure you will keep repeating it.
The music video is released officially online by Music Nepal via Youtube. Hope that you will enjoy this melodious lok dohori song Aanshu Paincho.
Here is the lyrics for the song Aanshu Paincho:
Yo sansar kai avagi ma hola
Avagi ma hola
Ajhai kati vognunai chha hola
Tmle dekhchhau vanera
Vagi vagi runthe
Maya le man dukheo mero
Ansu ko mul sukeo mero
Mile feri ansu paichho
Magi magi runthe
Avagi ma hola
Avagi ma hola
Ajhai kati vognunai chha hola
Tmle dekhchhau vanera
Vagi vagi runthe
Maya le man dukheo mero
Ansu ko mul sukeo mero
Mile feri ansu paichho
Magi magi runthe
Maya le man dukheo mero
Ansu ko mul sukeo mero
Mile feri ansu paichho
Magi magi runthe
……….. ……………… …………….
Vagya astai hoki jhai lauchha
Hoki jhai lauchha
Jaslae ramro gareni dos auchha
Tmle dekhchhau vanera
Vagi vagi runthe
Maya le man dukheo mero
Ansu ko mul sukeo mero
Mile feri ansu paichho
Magi magi runthe
Hoki jhai lauchha
Hoki jhai lauchha
Jaslae ramro gareni dos auchha
Tmle dekhchhau vanera
Vagi vagi runthe
Maya le man dukheo mero
Ansu ko mul sukeo mero
Mile feri ansu paichho
Magi magi runthe
Maya le man dukheo mero
Ansu ko mul sukeo mero
Mile feri ansu paichho
Magi magi runthe
……………… ……………. …………………