New Lok Geet Kharani by Prashant Paudel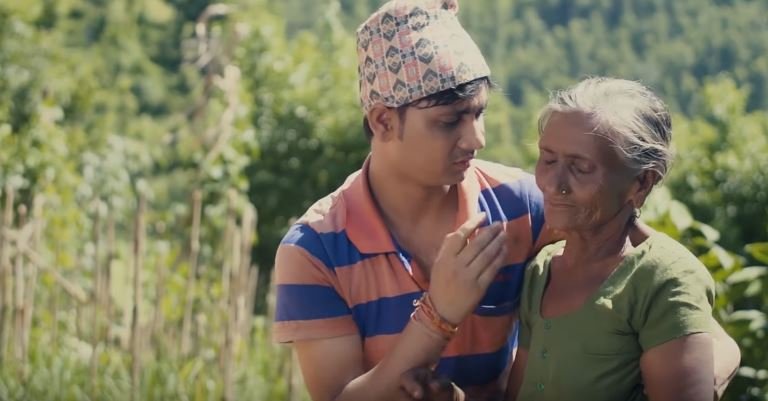 Kharani is a well tuned folk song by Prashant Paudel. The music video features Suman Khatiwoda and Tilochan Paudel. Kharani is a Nepali lok geet by Prashant Paudel which is directed by himself. Kharani music video was edited by Amar Shakya and music video was cinematographed by Basu Baral.
The music of this song is composed by Prashant Paudel and he himself wrote the lyrics of this song. Suman Khatiwoda and Tilochan Paudel have given their pleasing performance for this song. Kharani is a sentimental song. In this music video, you will get to see the pain which is caused by the low economic condition of family. This music video also deliver the message that when ever we are in trouble, we will again drawn in the another pool of troubles. This also shows the love between mother and son. This music video was post production by Bhavana Music Solution. If you are sentimental folk song lover and once you listen this song, you will keep mouthing it.
The music video is released officially online by Music Nepal via Youtube. Hope that you will enjoy this melodic Lok dohori song Kharani.
Here is the lyrics for the song Kharani:
Budhi vaeu ama tmi
Pugi sakeu assi
Kaslae dosa lagam barai
Karmai khoti vasi
………………………….
Pohor sala chura foreu
Puchheu sindur sir ko
Bidhuwa ko seto pairahan
Man ma poko pirko
Ansu ko mo ansu ko mol
Ankha ma hatena
Manko ghau jhan badheo ghatena
Ama ansu ko mol ankha ma hatena
Man ko ghau jhan badheo ghatena
Avagini raichhau ama
Rainchhau vagya mani
Birmai vai thala parda
Kasle dela pani
Saule deko baule leko
Rin tiramla vani
Tmlae chhodi pardes tira
Aye ama ma ni
Gham le polda gham le polda
Tmro yad auchha
Dako chhodi runa man lauchha ama
Gham le polda gham le polda
Tmro yad auchha
Dako chhodi runa man lauchha ama
Dako chhodi runa man lauchha
………….. ………….. …………………