New Teej Geet Maiti Gharko Maya by Prakash Pariyar and Gita Saud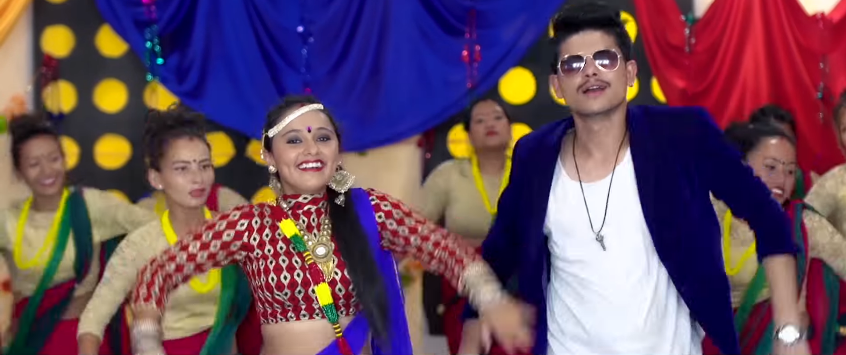 Maiti Gharko Maya is a new Nepali teej song by Prakash Pariyar and Gita Saud. The music video features Pradip and Karishma. The song is based on Nepali women's great festival 'Haritalika Teej' directed by Prakash Chhetri and edited by Adhinayak Man Sherchan.
The lyrics for the song was written by Shova Khadka and the music was composed by Bimal Pariyar. The music video was Choreographed by Pradip Gyawali. The music video features talented duo Pradip and Karishma. They have given their best performances in several music videos. The music video is based on the Nepali festival 'Teej', which is one of the biggest festival of Nepal. Hartalika Teej welcomes the monsoon season and celebrated primarily by girls and women, with songs, dancing and prayers. The festivals celebrate the bounty of nature, arrival of clouds and rain, greenery and birds with social activity, rituals and customs. The monsoon festivals of Teej are primarily dedicated to Goddess Parvati and her union with Lord Shiva. Maiti Gharko Maya music video was presented by Sarba Samman Music Pvt. Ltd. Once you listen to this song, I am sure you will keep tuning it.
Maiti Gharko Maya is released officially online by HighlightsNepal via Youtube. Hope that you will enjoy this romantic and melodious Teej song:
Here is the lyrics for the song Maiti Gharko Maya:
Heyy ghumdai ra firdai teejai aayo ma maita jane ho
Aama ko haat lea pakako mitho daar utai khani ho
Aama ko haat lea pakako mitho daar utai khani ho
Yo pali teej ma janchu
Ma maita dui char dinalai
Pirnagari basa hai kale bhai aaucha rea lina lai
Yo pali teej ma janchu
Ma maita dui char dinalai
Pirnagari basa hai kale bhai aaucha rea lina lai
……………………………………………………………………………
Heyy timrai ho chada timrai ho khusi
Jaau maita piyari
Dui char dinlai basaula kyare ghar ko kaam siyari
Dui char dinlai basaula kyare ghar ko kaam siyari
Yo teejma jau sani maaita dui char dui char dinalai
Aaune bela phone gare kali mai aauchu lina lai
Yo teejma jau sani maaita dui char dui char dinalai
Aaune bela phone gare kali mai aauchu lina lai
Aaune bela phone gare kali mai aauchu lina lai
………………………………………………………………………….
Heyy pohor nee jana diyenau kale sarai maan roko thiyo
Maiti ko ghar ma nachne gaune sarai nai dhoko thiyo
Maiti ko gahr ma nachne gaune sarai nai dhoko thiyo
Yo pali teej ma janchu
Ma maita dui char dinalai
Pirnagari basa hai kale bhai aaucha rea lina lai
Yo pali teej ma janchu
Ma maita dui char dinalai
Pirnagari basa hai kale bhai aaucha rea lina lai
Pirnagari basa hai kale bhai aaucha rea lina lai
……………………………………………………………………….
Heyy dherai din samma nabase kali yo jyan daraucha
Timilai sath ma dekhina bhane chhatpati garaucha
Timilai sath ma dekhina bhane chhatpati garaucha
Yo teejma jau sani maaita dui char dui char dinalai
Aaune bela phone gare kali mai aauchu lina lai
Yo teejma jau sani maaita dui char dui char dinalai
Aaune bela phone gare kali mai aauchu lina lai
Aaune bela phone gare kali mai aauchu lina lai
…………………………………………………………………………..
Heyy k pira mero nalinu kale basaera jhelaula
Daar khaye pachi teej ko bholi farkinchu bela ma
Daar khaye pachi teej ko bholi farkinchu bela ma
Yo pali teej ma janchu
Ma maita dui char dinalai
Pirnagari basa hai kale bhai aaucha rea lina lai
Yo pali teej ma janchu
Ma maita dui char dinalai
Pirnagari basa hai kale bhai aaucha rea lina lai
Pirnagari basa hai kale bhai aaucha rea lina lai
……………………………………………………………………..
Heyy nari ko parva nari ko khusi maiti ko kakhama
Gayera geet ramailo gari teejko bhaka ma
Gayera geet ramailo gari teejko bhaka ma
Yo teejma jau sani maaita dui char dui char dinalai
Aaune bela phone gare kali mai aauchu lina lai
Yo teejma jau sani maaita dui char dui char dinalai
Aaune bela phone gare kali mai aauchu lina lai
Aaune bela phone gare kali mai aauchu lina lai
Pirnagari basa hai kale bhai aaucha rea lina lai
Aaune bela phone gare kali mai aauchu lina lai
Pirnagari basa hai kale bhai aaucha rea lina lai
Aaune bela phone gare kali mai aauchu lina lai
Pirnagari basa hai kale bhai aaucha rea lina lai
…………………………………