New Teej Geet Rato Sari by Indra Jeet Roka and Bhumika Giri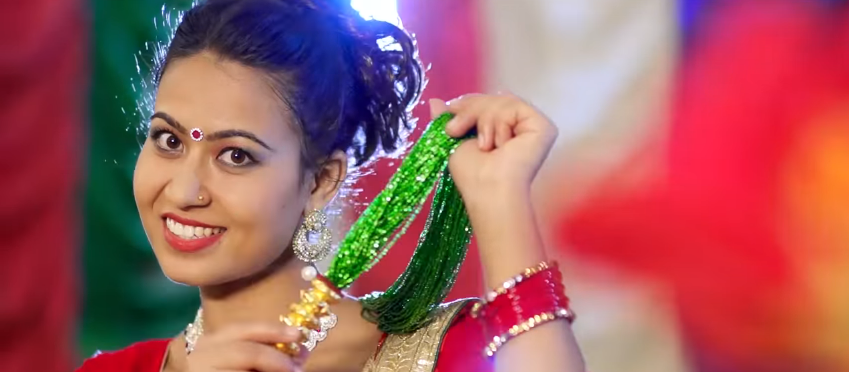 Rato Sari is a new Nepali teej song by Indra Jeet Rokka and Bhumika Giri. The music video features P.N Sapkota and Preeti Chhetri. The song is based on Nepali women's great festival 'Haritalika Teej' directed by Bikram Chauhan and edited by Milan BK.
The lyrics for the song was written by  Rajkumar Baniya and he has himself composed the music. The music video features talented Nepali duo P.N Sapkota and Pretti Chhetri.  The music video is based on the Nepali festival 'Teej', which is one of the biggest festival of Nepal. Hartalika Teej welcomes the monsoon season and celebrated primarily by girls and women, with songs, dancing and prayers. The festivals celebrate the bounty of nature, arrival of clouds and rain, greenery and birds with social activity, rituals and customs The monsoon festivals of Teej are primarily dedicated to Goddess Parvati and her union with Lord Shiva. Rato Sari music video was presented by Gorkha Chautari Music. Once you listen to this song, I am sure you will keep tuning it.
Rato Sari is released officially online by HighlightsNepal via Youtube. Hope that you will enjoy this romantic and melodious Teej song:
Here is the lyrics for the song Rato Sari:
Heyy pohor parar bidesh ma thiye naramailo sahar thiyo
Pohor parar bidesh ma thiye naramailo sahar thiyo
Aafnai gau ra gharma basi teej manaune rahar thiyo
Seto pait mailera kalai bho aaja
Yespali ko teej manauna salayan bazar aako chu
Dhoko pheri nachne ho gaune ho aaja
Dhoko pheri nachne ho gaune ho aaja
Dhoko pheri nachne ho gaune ho aaja
………………………………………………………………………….
Heyy timi bidesh ma nee eklai nira hera aauthina
Timi bidesh ma nee eklai nira hera aauthina
Sadhai bhari ghar ko kama ekchin fursad paauthina
Rato sari mailera kalai bho aaaja
Yespali ko teej manauna butwal bazar aaki chu
Dhoko pheri nachne ho gaune ho aaja
Timi bidesh ma nee eklai nira hera aauthina
Sadhai bhari ghar ko kama ekchin fursad paauthina
Rato sari mailera kalai bho aaaja
Yespali ko teej manauna butwal bazar aaki chu
Dhoko pheri nachne ho gaune ho aaja
Dhoko pheri nachne ho gaune ho aaja
Dhoko pheri nachne ho gaune ho aaja
…………………………………………………………………………….
Heyy timile lacheu rato sari maile seto painta
Timile lacheu rato sari maile seto painta
Jyanai fali nachu baru lauchu samai sahita
Seto paint mailera kalai bho aaja
Yespali ko teej maanauna koholpur bazar aako chu
Dhoko feri nachne ho gaune ho aaja
Timile lacheu rato sari maile seto painta
Jyanai fali nachu baru lauchu samai sahita
Seto paint mailera kalai bho aaja
Yespali ko teej maanauna koholpur bazar aako chu
Dhoko feri nachne ho gaune ho aaja
Dhoko feri nachne ho gaune ho aaja
Ohai Dhoko feri nachne ho gaune ho aaja
……………………………………………………..
Heyy barsa dinma teej parcha gauma bela lako cha
Barsa dinma teej parcha gauma bela lako cha
Aama buwa didi bahine sabai jamma bhako cha
Rato sari mailera kalai bho aaaja
Yespali ko teej manauna dhading bazar aaki chu
Dhoko pheri nachne ho gaune ho aaja
Barsa dinma teej parcha gauma bela lako cha
Aama buwa didi bahine sabai jamma bhako cha
Rato sari mailera kalai bho aaaja
Yespali ko teej manauna dhading bazar aaki chu
Dhoko pheri nachne ho gaune ho aaja
Dhoko pheri nachne ho gaune ho aaja
Ohai dhoko pheri nachne ho gaune ho aaja
Dhoko pheri nachne ho gaune ho aaja
………………………………………………………………………….
Heyy ajai tah ho nachne gaune bholi parsi gainna
Ajai tah ho nachne gaune bholi parsi gainna
Aghi pachi manlage nee bheta huna paaina
Seto paint mailera kalai bho aaja
Yespali ko teej maanauna ghorai bazar aako chu
Dhoko feri nachne ho gaune ho aaja
Ajai tah ho nachne gaune bholi parsi gainna
Aghi pachi manlage nee bheta huna paaina
Seto paint mailera kalai bho aaja
Yespali ko teej maanauna ghorai bazar aako chu
Dhoko feri nachne ho gaune ho aaja
Dhoko feri nachne ho gaune ho aaja
Ohai dhoko feri nachne ho gaune ho aaja
Dhoko feri nachne ho gaune ho aaja
……………………………………………………………………….
Heyy ufri ufri nachu aaja sari maile mailiyos
Ufri ufri nachu aaja sari maile mailiyos
Bholi bihana melo chalcha gauai bhari failiyos
Rato sari mailera kalai bho aaaja
Yespali ko teej manauna lamjhung bazar aaki chu
Dhoko pheri nachne ho gaune ho aaja
Ufri ufri nachu aaja sari maile mailiyos
Bholi bihana melo chalcha gauai bhari failiyos
Rato sari mailera kalai bho aaaja
Yespali ko teej manauna lamjhung bazar aaki chu
Dhoko pheri nachne ho gaune ho aaja
Dhoko pheri nachne ho gaune ho aaja
Ohai dhoko pheri nachne ho gaune ho aaja
Dhoko pheri nachne ho gaune ho aaja
…………………………………………………………………